REVIEW: Delux still delish, but is the price too high?
Delux Burger Bar
9682 142 Street
780.420.0101
Lately, the role of fledgling food critic for a new online arts and entertainment mag has seemed a lonely row to hoe.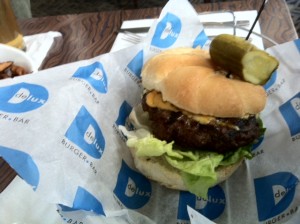 I'm informed that the general sensitivity level of the restaurant-going public is similarly high in theatre circles as well, where criticism — no one ever remembers the positive critiques — is met with just about the same fiercely wounded pride as you'd find among the odd wet t-shirt contest participant, the morning after all that beer wears off. People's feelings get HURT in this town.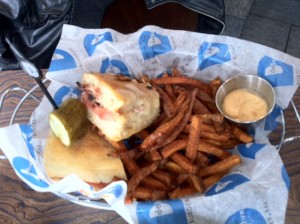 But there's only one way to be a critic, really, and that's just to call it as you see it. If that seems picky, pedantic, perfectionist or any other number of alliterative critical approaches, then so be it.
Like any big city — and with a million-plus folk now in the capital region, we're officially pretty darn big — we have thousands of restaurant choices, and about a third of those will close every year, due either to bad food or bad choices.
If we consider the likelihood that a fair portion of the remainder will be middling at best, it becomes something of a law of averages to find good, consistent service and food preparation. So places that once were great coast on rep, while others struggle but manage to stay as relevant or tasty as ever.
Delux Burger Bar has carried a heavy reputation for several years and is usually a contender among local food awards for the best burger joint in Edmonton. I've eaten there several times before, but not in a couple of years.
Aside from a celebrity chef's special, the menu was basically the same as I remembered, right down to the Kobe beef stack and the blue-cheese infused offering.
My dining partner and I agreed we'd only try items we've never had before, and in my case that was the Urban Classic, a 7 oz. sirloin patty topped with onions, a three-cheddar blend, lettuce, tomatoes and a house blend mayo.
It's a deliciously spiced sirloin patty. The lettuce was nice and crisp, and the cheddar tangy but not overwhelmingly old and strong. The bun was a light kaiser roll, and withstood the heft of the burger and toppings admirably until the final few bites, at which point things had denigrated a little into a sloppy mess.
Perhaps it's just the economics of the day, but it's worth noting at this point that the restaurant was about a third empty on a Sunday at lunchtime — not a good sign. The burgers at Delux have never been cheap — lunch for two is going to run you about $40, with a couple of drinks and maybe a side of fries. Meanwhile, I tipped my head in Hap's Diner and the Stony Plain Road greasy spoon had a lineup and wait list. The $6.50 breakfast may not be evolutionary, but it is $6.50, and a lot of food.
Meanwhile, back at Deluxe, I was chasing the burger down with a Singha Ale from Thailand, while my friend tucked into her grilled cheese sandwich, which blended several cheeses, including a peppered Havarti, on toasted french bread, with slices of fresh tomato, portobello mushroom and bacon. She declared it the best grilled cheese she'd ever eaten, "although I'd hesitate to call it merely a grilled cheese."
Both of us loved our fries. I had the poutine, while she had the sweet potato variety. My one real knock on the food? The poutine was way too light on gravy, and it was a bit thin, although the  curds melted nicely nonetheless. The fries were of the traditional diner string variety, cut fresh and tasty.
One smaller complaint would be the grind of the sirloin: Delux has always favoured the chunkier "Angus burger" style and I prefer the finer grind of chuck that used to be favoured on the sirloin burger at Continental Treat. But it's not a point that's likely to be a deal-breaker for most.
On the whole, the food at Delux continues to be excellent, and the service was superb. I suppose the bill for two diners at Hap's down the street would've been $10 to $15 cheaper. But — and I say this with no disrespect to Hap's consistent product — you often do get what you pay for. Most of us aren't dropping $50 for lunch for two that regularly these days, but Delux makes the choice that much tougher.