Taking a van out of Van City with The Diehatzu Hijets
Many local musicians are under the impression that the best way to jumpstart their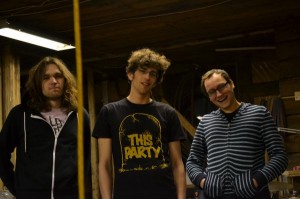 career is to get the hell out of Edmonton.
When Diehatzu Hijets frontman Layne L'Heureux tried that strategy, he found the opposite was true.
L'Heureux moved to Vancouver two years ago as a solo folk musician and found it wasn't all it was cracked up to be.
"There was more going on in Edmonton surprisingly, than Vancouver," he says. "Maybe I didn't spend enough time there, but it kind of seemed like everyone was there for the same reason I was there, to kind of boost their career, so there wasn't really a scene."
L'Heureux will release his fourth solo album New on Thursday (March 24) at Leva Cappucino Bar, 11053 86 Ave., and Diehatzu Hijets will drop its debut full-length Doo Doo Boy with a show at the Wunderbar, 8120 101 St., next Wednesday, March 30.
"Everybody was talented and they'd show up to all these stages and there would be this huge diversity of music going on, and they all had their own image and marketing thing. But there was no 'locals only' kind of deal," he continues.
"I like the locals only thing because it pushes everybody in the group. Everybody feeds off each other collectively."
Unimpressed with VanCity and rediscovering his love of grunge and '90s alt-rock, L'Heureux put an ad on Craigslist seeking a bassist and a drummer in Edmonton.
The responses sounded hopeful, so he set his sights back on the City of Champs.
L'Heureux wanted to return badly enough to spend the next four months living in a trailer and building 150-foot-long automatic chicken cages, at a job offered to him by a friend in Abbotsford.
"I worked these obscene hours. I worked six days a week, from 7 a.m. to 11 at night – there was no time off," he says.
"It was a pretty good job, I wouldn't diss it. It was just a lot of work. It was the hardest work I've ever done."
Once he'd saved up enough cash, he returned with a new outlook on life and a desire to rock harder than ever before.
Both Doo Doo Boy and New centre around lo-fi grunge rock, the latter dabbling more in acoustic experimentation.
The Dinosaur Jr.-inspired Diehatzu Hijets has already cranked out two EPs since forming in late 2009, and has quickly become the former folkie's top priority.
L'Heureux is learning to love the band experience, and hopes to tour western Canada with Diehatzu in support of the album, which will be released through local rapper/promoter Joe Gurba's Old Ugly records.
He hopes it's a less nervewracking experience than his tours as a chilled-out solo act with a backing band.
"It's kind of funny being a folk musician and touring. I don't even know if anybody listened to us at all, the whole show. Except for in Grande Prairie, Grande Prairie was a good audience," he says.
"Going on tour in a folk band, it kind of just feels like you're just background. So I think one of the good things about being loud is people can't ignore you. It's like, 'Take it, bitches. Take it or leave.' So I like that aspect of it."
L'Heureux still runs his own labels, Labrador City and Ulcer, on the side, and has also joined a blues-rock band called Wolf Sons.
The 23-year-old is more than content with E-town as his home base.
"It was a long haul back to Edmonton for sure, but I learned a lot," he says.