Edmonton has the Blues for Pinetop
Pinetop Perkins, one of the original Delta bluesmen, died on March 21 at the age of 97.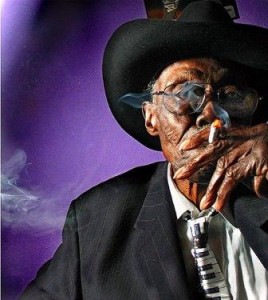 He sure had a great run. The master of boogie-woogie and barrelhouse piano – who recently became the oldest Grammy winner ever – played everywhere, with everybody, including Edmonton several times, and with area bluesmen like Rusty Reed, Harpdog Brown and Pete Turland. Pinetop embraced anyone, anywhere, who loved the blues as much as he did. Rusty, who played with him several times, has this to say: 'He loved his wine and his women and if I could have half the life he had I will die a happy man.'
Harpdog shared his experience playing with the legendary pianist, back at Calgary's King Eddy in 1993: "Pinetop worked us hard that night. Man I couldn't believe how fast two hours could go by – and that was just the first set. Class act all the way!"
We expect tributes aplenty at the local blues bars tonight. Rusty Reed's House of Blues has a full slate this week, featuring the weekend's headliner Tim Williams (Rusty is also celebrating his birthday with a big bluesy blowout this Saturday). Drummer-CKUA announcer Grant Stovel helps lead the blues jam with Moses Gregg and Robbie Taylor tonight. And down at Blues on White, you can catch the mighty California bluesman James Armstrong until Saturday.
We'd be surprised if we didn't hear at least one rendition of "Pinetop's Boogie."