Demonika's celebration of the underground at The Starlite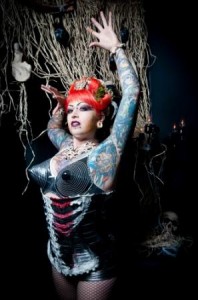 Listen: It's a big, big world, the underground world, and if it's going to be an interesting one as well, interesting enough for all of us, then everyone has to do their part. Everyone's got a thing that they can do, and they've just gotta do it. Some will have to dress scantily so as to lend a sexual charge to their surroundings; others will need to discover their inborn talents as sword swallowers and/or human pincushions.
But even once all of that's been done, what good is a denizen of the underground, or even a whole bunch of denizens of the underground, without a puppet-mistress to gather them all together, the burlesque performers with the contortionists, the magicians with the freak show acts, and make a proper extravaganza out of it all?
That's where Danika "Demonika" Challand comes in. All she wanted to do when she arrived in Calgary in 1999 was be a fashion designer, until one little taste of burlesque changed her life, and somehow between then and now, she has become the driving force behind Demonika's Symphony of Horrors. Their sixth major undertaking, dubbed Infernal Emergency, hits the Starlite Room this Saturday, March 26, and Challand says it's their most immersive yet, with a heavily decorated room and a show that includes performers intermingling with the paying customers before the curtains even open.
"It's our 10 year anniversary and there are all sorts of added goodies for the viewer," she says. "We have pulled out all the stops for this show."
You want to call them a freak show. You're aching to call them a freak show. But don't call them a freak show, OK? Once you see them, you'll understand. They're so much more than that, says Challand.
"We dub ourselves 'The Greatest Show Unearthed.' We can't pigeon-hole ourselves as any one thing because we encompass so many different elements such as dance, burlesque, traveling freak shows, performance art, acrobatics, alternative lifestyle, fashion, etc. We are a cabaret variety show I suppose; that keeps the umbrella open enough to fit us all in."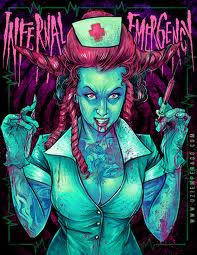 She says that how exactly a person discovers their talents for this particular brand of entertainment varies according to the individual, but if there is a common denominator among her and her compatriots, it is this: "How do you know you can do something? You just go for it. Sometimes it works, sometimes it doesn't!"
Just so you know, running a Symphony of Horrors is not all fun and games. In gigantic ol' Canada, cities are so far apart as to make it prohibitively expensive to take this show on the road, but in conservative ol' Alberta, some people are bound to misunderstand and freak out about the freaks. Mostly though, stuff like that doesn't matter to Challand. She's proud of what her show has done for her and her peers and draws inspiration from the experience. What motivates me to keep going is my artistic drive, I feel like this is how I express myself now and also consider each show a personal challenge of outdoing myself from the year before – trying new things, forcing myself out of my comfort zone, evolving as an artist and a human being."
Tickets to Demonika's Symphony of Horrors are $25 and on sale here or at the Starlite Room, 780.428.1099.