Hot Picks, March 23: Black metal band has bone to pick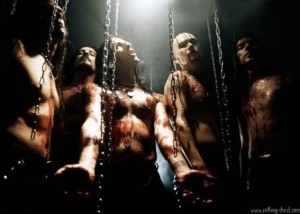 When exploring the subgenres of metal in the manner of Dante descending through the nine levels of hell, we come to one of the most "underground" genres of all: Black Metal.
What the hell is it, you ask? It is darker than death metal, more deathly than metalcore, faster than doom metal, more melodic than punk metal, more complicated than classic metal and their names are rendered in more spooky and unreadable lettering than most of the above. They also tend to have an axe to grind, or nails to pound, or whatever. Let's examine a sample lyric from the Greek black metal band Rotting Christ – pretty much the best black metal band from Greece, playing tonight at the Starlite Room: "Surrounded by thorns, unwrought stones, amphoras and bones, those cultures that are gone beyond all fantasy somewhere in polar stars" – delivered in sinister growls and shrieks over thundering beats, blistering guitar solos and maniacal tempos. This sort of thing really must be experienced live to be believed.
Well, it's the band's name that causes most of the controversy. It was even reported (here) that born-again Christian singer Dave Mustaine of Megadeth once refused to share a bill with Rotting Christ because he is a born-again Christian, prompting a response from the Greeks which made their impending eternal damnation clear in a way their lyrics really can't because they don't seem to make much sense. The singer Sakis Tolis was blunt: "We think Christianity is the worst thing to happen in human history. This is a well-organized trick in order to control society, so when I see someone that's very much Christian, that's full of the system, I feel very sorry for him because he's not free." Christopher Hitchens might agree, but not for long.
A foursome of the apocalypse of like-minded bands are on the bill tonight: Melechesh, Hate, Abigail Williams and Lightning Swords of Death. Each is expected to have their own unique and doubtless sinister take on this thing that was once just called "heavy metal."
Tickets to the show are $25 and on sale here or at the door.