FAMILY: 30th Kids Fest treats fans to $250,000 CirCo spectacular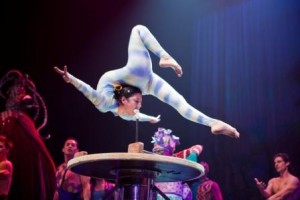 Hey kids! Remember how your parents dragged you to Cirque du Soleil and you were bored out of your mind? They promised non-stop action and laughs and fun and pure entertainment, but then it turned out to be a bunch of old creepy clowns that stood around holding umbrellas and riding giant bicycles to the tune of weird music that sounded like Enya with acrobats acting out some story that didn't make any sense? And remember how you asked how long before it's over and your parents got mad and called you spoiled and ungrateful because the tickets cost a fortune and money doesn't grow on trees?
Well, stop whining. You too, dad.
The International Children's Festival has just the thing for you: It's the iL CiRCo performing troupe from San Diego – no relation to Cirque, but quite similar in content and quality and aimed straight at the youngsters. OK, families. There's something for everyone with this act – as is the case with all the Internationally-themed, Hooray-For-Everything events happening throughout the festival: May 31 and through Saturday, June 4 in and around the Arden Theatre in St. Albert.
All jokes aside: This is by far THE best deal in children's entertainment in Alberta.
The iL CirCo shows are a fantastic deal – something extra special for the festival's 30th anniversary. The production of iL CirCo's Viaggio – featuring 22 talented performers that do exactly the sort of thing you see at Cirque du Soleil, clowns, acrobats, and so on, and this one actually has a storyline you can follow – will cost $250,000. All 13 shows are expected to sell out. The fact that this entire festival is heavily sponsored from both government and corporate sources is the reason tickets are only $20 for adults, $15 for kids. In the real world, they'd be at least $75. Plus the merch.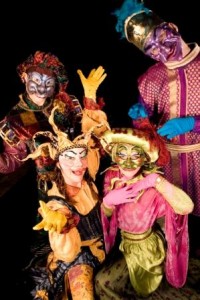 Let us reassure you that the kids will not be bored at this show. CirCo doesn't last as long as Cirque, for one thing. All the "oohs and ahs" have been condensed into a single hour of non-stop action and laughs and fun and pure entertainment. We really mean it this time.
Says festival director Nancy Abrahamson, "It keeps your attention, for sure. For families it's absolutely perfect."
There are of course many other events happening throughout the five-day event – 89 shows from nine main stage acts representing nine different countries. Plus this is the perfect festival for families to just wander about (provided it's a nice day outside), checking out all the free site activities and roving performers. This year, fittingly, there are roving acrobats. Yes, there is ice cream.
Tickets to all shows at the 2011 International Children's Festival sale at tomorrow, Friday, March 25, at 10 a.m. Buy online through Ticketmaster here or phone 780.459.1542.