REVIEW: Habesha is simply – and literally – smokin'
Habesha Restaurant and Hookah/Shisah Bar
9515 118 Ave. , Edmonton
780.474.2206
If you don't know what to expect and just walk into Habesha on a lark — as I did, on finding my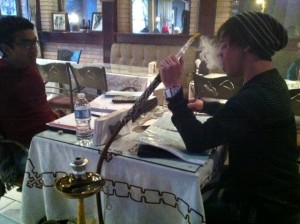 original target for a review out of most of its dishes — you're in for a heck of a surprise.
Ostensibly, Habesha is an Ethiopian restaurant on 118 Avenue; its name is derived from a term for a sect of Ethiopian and Eritrean Christians, though it has also been used more widely just to discuss people from the region. But more than just a spot to dine, it's an increasingly popular hangout for the city's young Arabic community.
The fact that the place is packed at 7 p.m. is not the surprise. The surprise is that, on opening the door, you're greeted with clouds of smoke. Billows of the stuff, deeply fragrant, the light from the restaurant's front windows cutting passages through it and across the interior.
Habesha is a hookah restaurant. Along with traditional Ethiopian dishes — and some Donairs and burgers, probably to get the young customers to eat and spend a reasonable amount on food — customers have huge water pipes at their tables, and they're busy puffing throughout.
It's not tobacco, though. It's fruit-cured herbal smoke, and though it's supposed to be non-intoxicating, those who puff on it regularly swear the stuff is calming, even making them more prone to contemplation. I must admit, a few puffs and I could've sworn I had a nice little buzz on.
Ah, the power of the placebo effect.
Anyway, that's why most of the folk are here. A $12 bowl of smoke lasts for a few hours, and they can drink coffee and soda and chat with their friends. It's enough to make the smoking fascist have apoplexy, but I'm told the stuff's harmless for the most part, and there really is a fine sense of community to the place.
Ultimately, it must pay the bills quite admirably, with multiple flavours and cost of smoke. Still, the addition of western food and donairs is a bit worrisome, because it suggests the restaurant is turning into more of a common room — sort of like a pot cafe in Amsterdam, minus some of the fun.
It would be a crying shame. Ethiopian food is deeply spicy and fragrant; the staple dish is wot, which is a rich stew. It's eaten with one's hands, using a spongy flatbread called injera to scoop up the meat. It's never without mess, and many Ethiopian places will offer you cutlery if you ask. But it is rather fun.
Habesha's wot came with an extreme heat warning, which proved unwarranted; it was certainly spicy, but nothing approaching the atomic heat you run into at some of the city's East Indian venues.
It took just 10 minutes to arrive at my table, and the serving size was large, in fact more than I could finish in one sitting.
Habesha adds in some fresh chopped lettuce and tomato, so eating Wot here is a bit like an ultra messy burrito.
Wot is made by drying out onions, then breaking them down as a thickening base in the stew. It's tangy, like a chili, but also saturates the tongue with the bitter smokiness you find in garam masala-based dishes. It can be too oily, but Habesha's was superb. I took a small sampling home to the wife, who now insists we go back.
I skipped desert when staff candidly admitted they brought them in, but had a cup of their thick-as-treacle black coffee to chase the meal down.
The restaurant itself is fascinating and cool, with eclectic decoration and rich chocolate tones. On one end is a lounge area and at the other a more traditional restaurant seating section. Almost all of the clientele are of Middle Eastern or North African heritage, which somewhat neutralizes the inevitable sensation that a hookah bar is a hipster trend.
Habesha reflects the general nature of 118 Avenue: it's inviting, the food is great, the sense of community and renewal is palpable. But just like the avenue, it's not without that hint of controversy. I found the scented smoke pleasant, like a room-full of incense or fragrant oils. Doubtless, some will not be so inclined.
Wot a shame!