Edmonton Tonight – somewhere between Johnny Carson and Mel's Rockpile
The latest theatrical attempt to create an Edmonton late-night talk show may soon have a home on the Internet.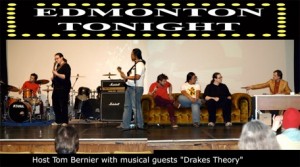 Tom Bernier, a local actor, musician and filmmaker who is the zany host of  Edmonton Tonight – a live variety show happening at the Citadel's Metro Cinema tonight at 10:30 – says things are "in the works" to run podcasts of the show online. It's a once-a-month event. Stay tuned, logged in, watch this space for details, whatever. The lines between TV and the Internet are getting blurrier every day.
For the time being, episodes of Edmonton Tonight are not being broad- or podcast, but are taped and shown on the big screen before a live studio audience.
Tom's basically doing a Fernwood 2Night-like parody – OK, let's call it a comic homage – of the classic talk show era defined by people like Steve Allen and Johnny Carson. One observer says Tom "starts with Johnny Carson and ends up with Mel's Rockpile."
"It's kind of an ad-lib bungle," Bernier says. "We do consider the whole thing as theatre, So yes, what I am doing is a schtick of some kind. I am playing a character."
Guests are expected to behave and be themselves as they are invited to sit upon "Hef," which is the name of Tom's golden, overstuffed sofa – and plug their wares. Just like on late night television!
But aside from the schtick, the aim of the show is be a serious discussion with real artists and other arts folks around Edmonton, along with performances and various cool stunts. The result is basically "late night show and tell."
Tonight's guests are:
–     Harry Pinchin: award-winning composer, arranger, conductor and former trumpet player of the Tommy Banks Orchestra. An alumnus of the CBC's long-running Tommy Banks Show will chat about the "golden age of television." And we thought we were in the golden age of television.
–     Alan McGillus and his buddies from the Edmonton Radio Control Society. They will demonstrate a model aircraft that can be remote controlled from an iPhone. Watch your heads.
–     Patrick Arès-Pilon: cinema director of Le Tivoli, a movie house dedicated to highlighting Edmonton's heritage through slides and film.
–     SHAMELESS SELF-PROMOTION ALERT: GigCity.ca editor Mike Ross will talk about Edmonton's new arts and entertainment website – the same one you're reading RIGHT NOW. Whoa, way to blow our minds, man.
Tickets for the show are $10 and available at the door.