Edmonton arts haven loses lease, landlord says it doesn't fit in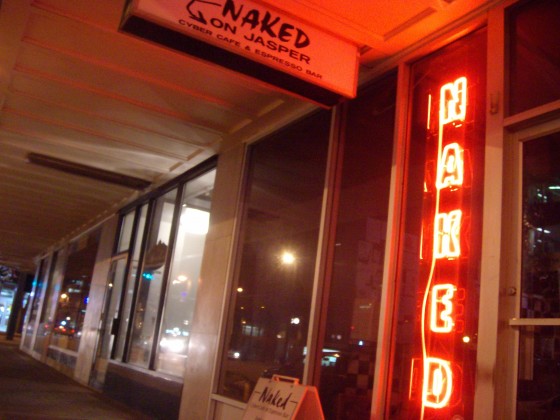 A city arts haven is closing, with its landlord pulling the lease because  it doesn't fit the company's idea of a tenant.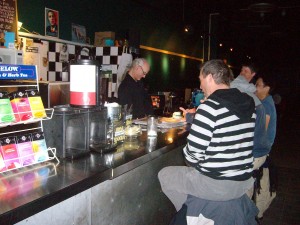 Naked Cyber Cafe and Espresso Bar has been a venue for Edmonton performers and artists in the former Birks Building on Jasper Ave. for a decade, but the downtown coffee shop is closing because the building's owner won't renew the lease.
Tuesday will be Naked's last day.
"We were renegotiating a year ago. They upped the value of the lease. I said, 'OK, we'll sign for another five years,'" Naked owner Bob Ligertwood explained.
"They phoned us a week later and said, 'You're out.'"
Ligertwood said a representative of the building's owner, Melcor Developments Ltd., told him the company didn't like the sort of clientele Naked brought to the area and that it didn't fit with the company's plans for redevelopment of the Birks Building.
Melcor property manager Catherine Bergamo doesn't deny a company representative may have told Ligterwood that his customers were a problem, but said there were other issues with Naked.
Bergamo said Ligertwood was hostile to suggestions for changes to the business. For starters, she said she suggested changing the name of the business, but Ligertwood refused. She also said other building tenants were uncomfortable with who was hanging around Naked at night.
"We have higher-end tenants who put a lot of care into their space who attract a higher-end of customer," Bergamo said.
"It's never an easy decision not to renew a tenant's lease and it's not something that we do without reason."
Bergamo said Melcor also wanted to make the space available for a possible addition to a fire escape that might be necessary if a tenant occupies the building's fourth floor.
The Birks Building on the corner of Jasper and 104 St. opened in 1929 and is enjoying a renaissance due to recent changes in the area, which include the redevelopment of the former Hudson's Bay building by the University of Alberta, and the construction of the nearby Icon Towers condominiums.
Naked's old neighbours used to be a news and magazine store, as well as the former Cecil Hotel a few doors away. Now it's next to a beauty salon, an optical store, and an upscale Sobey's.
Inside Naked, paintings that are for sale by local artists line the walls. Behind the counter, there's a picture of Barack Obama and another of John Lennon. A sign is also hanging that says, "I brake for goths."
"It's definitely a blow," visual artist Emily Smits said about Naked's imminent closure. "I've had more success being able to sell stuff there than through galleries."
Ashia Zawabuk, a painter who had her first show at Naked, said the cafe is more to artists than just a venue for their work. She said it's a place where they can meet other artists and discuss ideas.
"There's a limited number of cafes where you can hang out instead of just buying a coffee and leaving," Zawabuk said.
"You can hang out there [at Naked] all day."
Ligertwood said he's been trying to find another location for Naked downtown, but said property management companies won't call him back. He believes no one is willing to rent to him, even in spaces he says have been vacant for years.
He admitted there's sometimes shopping carts parked outside Naked, but said he won't turn their owners away because he believes everyone should be welcome.
"It's really extraordinary. It should be shocking to people. We're a neighbourhood joint," he said.
Bergamo said there isn't anyone slated to take over the space that will be left vancant when Naked closes.
She said she understands that Naked is used as a community space, but said maybe it's just not a suitable location for that anymore. She noted Melcor could have evicted Ligertwood immediately, but chose to give him a year and didn't increase his rent.
"It's nothing personal," Bergamo said.