ART: Lawren Harris' Canadian perspectives
Let there be no doubt: the Art Gallery of Alberta is a great place to go for a slice of Canadiana.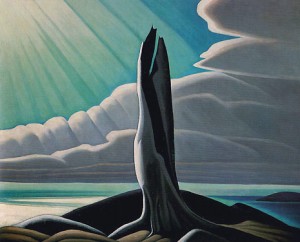 If you were to compare Lawren Harris' early and later work, you might be surprised by how the Group of Seven artist's perspective shifted over time.
That change is the focus of a retrospective of the landscape artist's work during his long career. Harris, who died at age 85 in 1970, began as a fairly literal interpreter of the Canadian wild, says AGA deputy director and chief curator Catherine Crowston.
"Harris' career presents us with an interesting narrative of creative change, shifting from a strong commitment to landscape painting in the early decades of the 20th century to a focus on non-objective abstraction in the 1930s" says Crowston.
From his travels across Canada , the Arctic and New Mexico, Harris was inspired by the organic shapes of nature, and attempted to capture the spiritual essence of the natural world through abstracted forms and compositions.
Lawren Harris Abstractions combines 14 works from the National Gallery of Canada with 6 from the Art Gallery of Alberta's collection to demonstrate Harris' shift in interest from representing the landscape to creating almost fully non-objective works.
The show, which began Saturday, runs until September.