Hot Picks, March 27 – A guitar triumph and some other winning moments
OK…so there's no blues category.
Nonetheless, we still greatly dig the first attempt to put our city's band's efforts into the rewarding context they deserve, other wise known as the Edmonton Music Awards.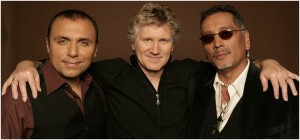 They're on tonight and tomorrow at Haven Social Club. Performers tonight include White Lightning, Erica Viegas, Jezibelle, Fender Case and Jeff Morris. The five nominees for Best Music Video will also be screened that night, and awards will be presented for the fan-voted categories, which are Best Live Performance, Artist to Watch, and naturally, People's Choice. More details here.
Got a flare for the flamenco? Does a fret run make your heart flutter? Do hammer-ons really get you off?
Then your best bet tonight is at the ever-excellent Festival Place in Sherwood Park for "Trifecta". The guitar combo of Pavlo, Rik Emmett (of Triumph fame) and Oscar Lopez are plucking amazing. Or something like that. The trio has been together for a few years now fusing acoustic, electric, country, flamenco, rock, jazz and more into some pretty neat tunes.
Here's a video.