Local media celebs strut their 'stuff' at Fashion Week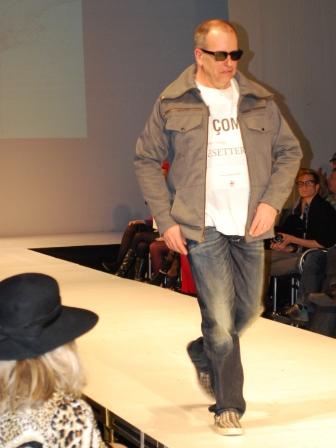 My personal philosophy of never saying no to anything has turned into some pretty strange stunts. I'll stop short of swallowing and then vomiting up a live goldfish like that idiot from Jackass (like to see him try that with Lucy the elephant), but almost anything else goes.
So when I was asked to be a fashion model at Western Canada Fashion Week as part of the "Celebrity Fashion Show" at the Arts Barns last night (Saturday, March 26) I of course agreed immediately. I know that "local media celebrities" represent the lowest level of celebrity possible. I know we were there to give the crowd a giggle. I was ready to do my part. I am fat and bald and old and have a bad back and my main fashion concern is picking out two identical white socks from a giant pile of slightly different unmatched white socks. I mean, some have coloured bands. Some have logos. Some are textured, some or not. Some have giant holes. It's maddening. I want invent a sock dispenser for guys, each loaded with 100 identical white socks that can be disposed of after wearing them for a few days. Of course that wouldn't be environmentally friendly. I'll work on it and let you know. Maybe they could be melted down or something.
ANYWAY: Fashion. Organizers dressed me in about $1,000 worth of threads from High Grade Clothing in West Edmonton Mall for a sort of a middle-aged man hip-hop look – the jeans alone were $200 and had rips in them. At the gig, they applied shine to my head, powder to my face and fed us wine and brie backstage.
My fellow local media celebrity models included Josh Classen from CTV and Duane English from Global, along with various media types, arts people and actors. We partied a bit backstage. Josh shared his gin, which went well with the wine and cheese – and showed off his FABULOUS shoes-and-socks ensemble. I wonder if the sock dispenser would work with these.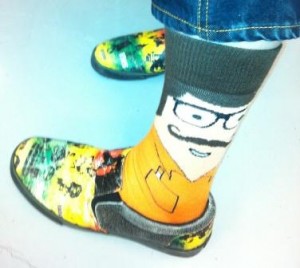 To pass the time before our BIG MOMENT, I ended up in jamming in the back hallway on an old, out-of-tune upright piano with the flamenco dude (Oscar-Jose Garcia) who was performing that night – some kind of flamenco version of Hotel California. It was super cool, and not a soul heard it. Then Oscar said the brie wasn't sitting very well with him, but he turned out to be OK and did his flamenco interludes with his dancing, castanet-snapping wife Judith.
Strutting down the catwalk was a lot of fun. Looked like a good crowd. It was just like on TV. Torn between doing "Magnum" and "Blue Steel," I decided to go with "Blue Magnum" – and it paid off. The lights were bright, the camera flashes were popping, the house music was thumping and I couldn't see a damned thing because I was wearing sunglasses. I heard laughter, did some Wayne Newton pointing and waving and drank in a smattering of applause. Whether it was for me or my outrageous gangsta oufit wasn't clear. Then we did a local media celebrity group hug and it was over as quickly as it had begun. The gin was gone.
I was a FABULOUS night I'll never forget. I am definitely going to get some new socks.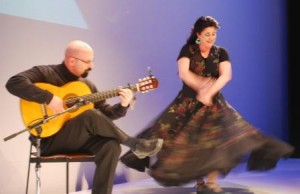 REAL fashion shows continue at the Arts Barns through March 31.
Here's the schedule:
Sunday, March 27, 2011:
Salon Montage: Eveline Charles Academy, MC College, Chrome Spa Salon & The Beauty Lounge, Rain Salon Spa and Aveda academy
Monday, March 28:
Fantasy Hair & Makeup Competition: Firefly Theatre and Circus, Fantasy Makeup Competition, Fantasy Makeup Competition Winner September 2010 – Cora Whitford, Fantasy Hair Competition, Temna Fialka by Natasha Lazarovic, Costume Design Contest, Sweet Carousel Corsetry and Apparel by Elise Truong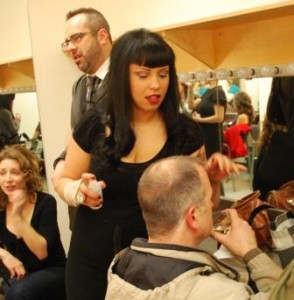 Tuesday, March 29:
Fashion Collections: Rebecka Pichoch – Edmonton; Lisa Marie Sciroli – Edmonton; Genette Salgado – Vancouver; Sessa by Tressa Heckbert – Edmonton; Y-3 Yohji Yamamoto – Japan: Presented by Highgrade Clothing – Edmonton
Wednesday, March 30:
Fashion Collections: DiannoeDionne – Calgary; Malroie Urbanovitch – Edmonton; Luxx by Derek Jagodzinsky – Edmonton; Kelly Madden – Edmonton; Comune – Los Angeles: Presented by Highgrade Clothing – Edmonton
Thursday, March 31:
Fashion Collections: Sofiss – Edmonton; Adejoke Taiwo – Calgary; Kelsey McIntyre – Edmonton; Jessica Halabi – Edmmonton; Emogene Couture – Calgary; Joeffer Caoc – Toronto: Presented by My Filosophy
Friday, April 1: Wrap party presented by Latitude 53 at 10575 109 Street, in a building once occupied by Donovan's Fashions.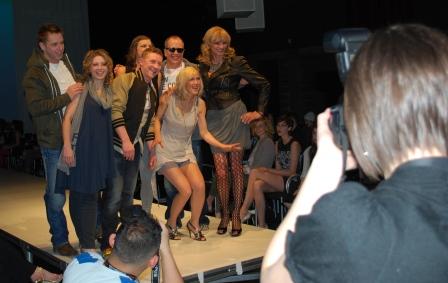 All shows start at 8 p.m. All tickets are $18 per night, available at Tix on the Square, or by calling 780.409.1910.