Morris, The Red Threat first-night winners at Edmonton Music Awards
Posted on March 27, 2011 By Ann Smart Music
OK….so remind us again why the first annual Edmonton Music Awards were scheduled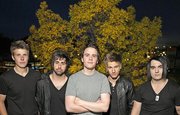 opposite the Junos?
Or, as one hi-larious Tweeter noted last night " Holding the #EMAs during the #Junos is a great way to emphasize #yeg's absence from the national music scene."
Of course, to those packed into Haven Social Club for the first night of the EMAs, there was a more stark and apparent contrast: how lame big pop awards shows can be when you could be huddled in dark basement club, listening to folk with rising expectations play high-grade sound for low grade pay.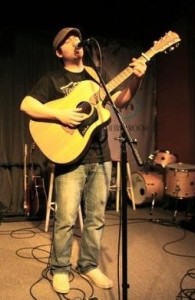 For those who missed Damon Sparks' preview story (and really, why would you miss anything on Gig City? ) nominees White Lightning kicked off the show with a healthy dose of funk, accompanied by tambourines, before Jeff Morris ( pictured at right) was named winner of Best Live Performance for a gig last year at Axis Cafe. His opening number that night, Lisa Nicole Grace, was to joke that she was "counting myself as a winner" by proxy.
Erica Viegas, who would win Artist to Watch on the night, was charming the pants off of Haven before all girl band Jezibelle hit the stage, falling under the watchful phone camera lens of K97 Morning Dude E-Spectacularrrrr Terry Evans, who was there both as a fan as as proud papa, with his boy in DRT – nominated for three awards, but not able to attend, because of Alberta's stupid law preventing minors from performing in licensed venues.
The audience then got a look at the new video for "It's not me, it's you," from Radio for Help, which coincidentally – or not – started on the street on Stony Plain Road, outside Haven. Morris then reminded everyone just why he'd won for best live performance, with fans appreciating the sound guy's neat use of chorus. It was one of five videos screened, with the winner for best new vid being picked on the awards' second night.
The People's Choice Award went to recent Sonic Band of the Month The Red Threat (pictured at right) showing a little FM air time can go a long way.
"It's truly unexpected and really appreciated," said the band's Evan Watson. " I really want to thank Danny (Fournier) for putting this on, this really, really means a lot for the Edmonton scene and I definitely think it's going to do great things over the next couple of years.
The show continues Monday night with the bulk of the awards, for Best Album, Best Single, Best Solo Artist, Best Group, Best Female Artist, Best Pop/Hip/Hop/Dance artist, Best Country Artist, Best Roots/Folk artist, and Best Metal Artist.