PREVIEW: Full of love…as much as any robot can be
As you prepare your schedule of outings for the week and turn your consideration to Thursday evening, specifically Doug Hoyer's performance at Leva Cafe, there is something you should probably know about Doug Hoyer.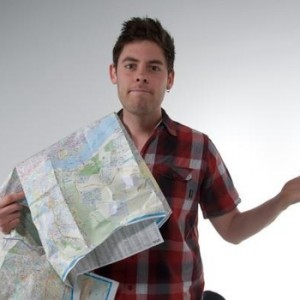 Is it that he studies sociology? Is it that he knows a thing or two about Walt Whitman, and in particular that he will name his forthcoming full-length album with a quote from the aforementioned (Doug Hoyer Walks With the Tender and Growing Night)? This is interesting, but it's not the thing you should probably know, at least not yet. The thing you should probably know is, Doug Hoyer may or may not be an alien robot.
The evidence to date in inconclusive: a recent appearance onstage with his band, Bike Month, bearing a very strong resemblance to an alien robot, with metallic-looking makeup covering every exposed bit of skin. Later, he could be seen walking around with smears of the makeup still showing on the back of his neck where he missed with the washing off – unless, of course, his skin is actually metallic and those patches were the places he missed afterward with the application of the human makeup.
Hoyer is cagey on the topic, with a response at the ready about his father who, it is implied, is human. "My dad came to that show," he laughs. "It's pretty funny – he's really supportive and stuff, but afterward he starts, 'Doug, I don't think it was clear to people whether you were an alien or a robot. I mean, you looked shiny but you didn't look too alien-y. Maybe you should put antennae on or something if you're going to do that, Doug.'"
Also on the record, the following admission: "One of the first songs I ever wrote in high school was about how I wished I was Astro Boy so that I wouldn't have emotions because they were just getting in the way of things, which is a really bad analogy since Astro Boy wanted to be human."
Is that a slight glitch in Hoyer's programming that will cause him to occasionally come too close to revealing his origins, or is it an example of his obvious humanity? It's hard to be absolutely positive, but here's the thing, if he's an alien robot, Hoyer shows a particular predisposition for, and adeptness at, writing songs about all those icky human emotions, especially the one that starts with 'l'.
"I find that I write a lot of love songs, whether it be lack of love or in love," he says. "I don't know, I guess that's just what I do, I guess, but one thing that's cropped up a few times are these reminders to myself that I should embrace the little things, the subtle moments that could easily be overlooked but are actually some of the best things that are going on, and I find I have to remind myself sometimes and sometimes the best way to do that is in song."