Blood Cancer research benefit draws top local performers – unplugged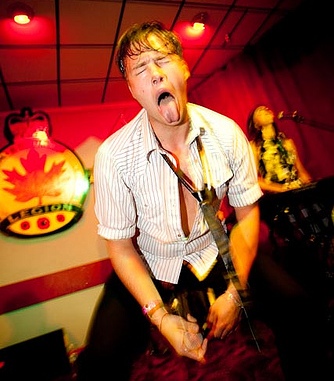 When Erin Land wanted to get local musicians to play a benefit for Blood Cancer – for free – she thought she'd get laughed at.
Oh, foolish woman! They didn't laugh. They jumped. Edmonton's music scene is riddled with philanthropists eager to donate their talent for a worthy cause. Besides, a gig's a gig. Any exposure is good.
AND SO: Rhythm for Research, Saturday, April 2 at Original Joe's, 8414 109 Street, has so much pro-bono talent going for it that the thing has to be split into two. The early show at 2 p.m. will feature jazz musician Erin Craig and the fetching front-ladies from Sister Gray. The late show starting at 6 p.m. is headlined by Christian Hansen (above) from Christian Hansen and the Autistics, minus the Autistics, along with Edmonton rapper The Joe and other assorted guests. The entire show is UNPLUGGED, which makes the name "Rhythm for Research" a bit misleading since there won't actually be a drum kit providing rhythm on stage. Maybe they could've called it "Unplugged for Blood Cancer" or something.
Whatever. It's a good cause. The performer line-up is solid – and they're all donating their time. One hundred percent of the proceeds will go to the The Leukemia and Lymphoma Society of Canada.
Land has a personal stake in this. She has a close friend whose child died of leukemia. Land's grandmother died of a rare form of leukemia – tragically a month after celebrating remission from breast cancer. Land is also raising money for the cause by running a half-marathon (21 km) in Ottawa in May. This gig is her first crack at organizing a show for charity. It started as a little idea she floated (and tweeted) around and it grew from there.
She says, "I've never done anything like this before in my life. I started sending out my e-mails thinking they were going to laugh at me – and everybody said yes. I had to picture it bigger than I imagined. It's become this amazing event."
That's Edmonton's music scene for you. Tickets to Rhythm for Research are $15 in advance, available at YEG Live, or $18 at the door.