New Music West coming to Edmonton in July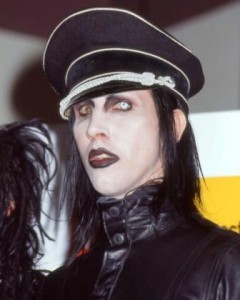 Good news, everyone: New Music West is coming to Edmonton this summer!
It's the first time the long-running music festival has taken place outside of Vancouver – but the thing has, shall we say, "been on a short hiatus," so we're basically starting fresh with a clean slate. The plan is simple: More than 30 different totally cool live artists will be showcased at the event, along with the usual raft of workshops, seminars, general schmoozing and the odd big drunken blowout. There's radio support, media, jolly good hoopla, a chance for music industry wheels to check out the new talent. Plus there may be some celebrities. In the past, the festival has seen stars like Nickelback, Marilyn Manson (right), Gene Simmons, Sam Roberts, The Flaming Lips, Frank Black, Hot Hot Heat, Matthew Good, Run DMC, Metric and many, many more. Who might we get to come to Edmonton? We'll see. It all takes place July 21-23 at venues to be determined. Edmonton's heavyweight promoter Union Events is getting behind it, so we know it's not going to be some rinky-dink affair.
Events will be open to the public. Ticket details to come. And if you're an artist who wants to do a showcase at New Music West 2011, simply go to the website here and follow the instructions.
We'll give you more details as they become available.