TRUE TALES OF THE ROAD: Alan Jackson Down Under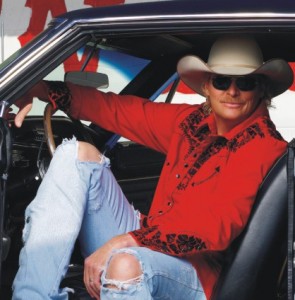 We asked Alan Jackson's people to pass on our one-question interview to Alan Jackson so he could think about it: What's your best road story?
Well, he thought about it. His tour manager Morris called a few minutes before a scheduled phoner to advance Jackson's concert at Rexall Place this Wednesday (March 30), "Alan says he doesn't really have any road stories he can think of, so if you could take a different angle that would be great."
So maybe I could just ask him when we do the interview?
"He doesn't want to talk about it."
I just want to be clear here: Alan Jackson is a big boy. So you'd be personally MAD at me if I asked him?
Morris gets a bit annoyed: "I'd really rather you not."
OK, OK, geez. Road stories are tricky. The best ones – the ones with the hookers and the drugs and the drunken disorderlies – you can't talk about because of the Sacred Code of the Road. The goal of this series to explore how today's musicians handle challenge and adversity and insane groupies. It can often reveal a whole lot more about their personalities than merely talking about their new music, which should speak for itself. Not that Alan Jackson would have any good stories anyway. He's a 52-year-old Christian family man. He's never been on TMZ. He tours all the time – but no road story.
And that would've been it for this yarn were it not for a blessing of coincidence – Alan just got back from his first-ever trip to Australia. There's a road story. We can talk about that and Morris won't get mad! Turns out that Alan didn't drink strange brews from gourds with the bushmen in the outback, or get into any bar fights with burly men whose shorts are too short, or get bitten by a shark on the Great Barrier Reef. He took a little boat tour around Sydney Harbour, wanted to do some fishing, but never got a chance, worked hard, did the gigs, that's about it. Alan's observation: "It's a beautiful country. The people are really nice and the fans really love the music I make."
Man, you have to use a crowbar to pry a good quote out of this guy. He's a shy man, like his daddy, and you get the feeling he would've been happy to be a real cowboy who doesn't have to do interviews or attend awards shows. Shucks.
Australia, he goes on, reminds him of Canada – and there seem to be far more rednecks Down Under than anywhere else in the world short of the American south. We've all heard the stories, seen the Foster's commercials, watched the snake-teasing idiots on TV. Remember that most of the Caucasian people who live in Australia are descended from British criminals and other misfits sent to the giant penal island in the early 1800s – with its beautiful beaches, breathtaking scenery, astounding wildlife and weather far more pleasant than dreary old England. This is how they used to punish criminals. It was either that or having your guts ripped out and burned in front of you. I'll take Australia, please, your Honour!
While some of the Australian cities reminded Jackson of Dallas or Houston, Texas, Brisbane was one place where this cowboy star who was born in rural Georgia felt right at home.
"They're a working people," Jackson says. "They're a rootsy kind of people. I always just say that country is just music about living life, about things a lot of people go through, drinking songs, heartbreak songs. People find something to catch onto. But I've played a lot of places. People are pretty much the same everywhere you go."
And that's that for Alan Jackson's TRUE TALE OF THE ROAD. Maybe he's saving the good ones up for the inevitable tell-all book.
Tickets to Alan Jackson, with opening acts George Canyon and The Harters, are $38 to $87 and on sale here, or at the door.