Wool on Wolves, Morris top Edmonton Music Awards
Posted on March 28, 2011 By Ann Smart Music, The Latest
Jeff Morris, Wool on Wolves and Hot Panda were the big winners on the second night of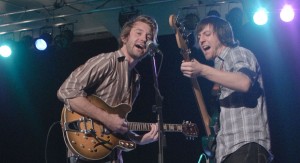 the Edmonton Music Awards – though anyone catching a couple of the smoking live performances can probably claim that title, too.
Morris added to his Best Live Performance award from Sunday night with Best Solo Artist for his album Original Songs On A Borrowed Guitar. "I recorded it at a friend's house. For Free. On Monday nights, for about two years, because it was the only night we had off," he told the sold-out audience at Haven Social Club.
General poverty was an overarching theme to the night. "We recorded this album with no money, nothing," noted Best Single winners The Weekend Kids. Wool on Wolves, winners for Best Group and Best Folk/Roots Act, noted they couldn't all be present. "Like nearly all of the artists here we all have day jobs and one of our members is in the Yukon geo-physicizing right now," the band noted.
The comedy from co-hosts G-Wiz and Smoovie of Kemo Treats was …uh …..improvised. There were some generally funny moments, as when G-Wiz announced as a sponsor "95.7 The Sound, for those of you who don't have an iPod…or a radio station."
There were also some fine, restrained performances, including a crescendo effort from Wool on Wolves that finished with a wicked Tele solo and another by The Provincial Archive that had a lovely senior lady dancing with glee in front of the stage. It's a Twitter world: within moments, someone had started the hashtag #whoisthedancinglady?
Long-time local balladeers the Wheat Pool upset Juno winner Corb Lund for best country band, while Fendercase returned a night after wowing the audience with a solo performance to pick up best pop, hip-hop or dance artist. Dude glided up to the stage in a gold lamme suit, a point he noted himself in thanking everyone for the award, as "it's kind of hard to slink out of here in a gold suit when you didn't win."
There were a few uneven performances. Red Shag Carpet hadn't played together in a year and were a little vocally monotonal, and the usually awesome Colleen Brown had some pitch issues. But on the whole, the performances were solid.
The rest of the music? For some reason, organizers chose to use classic T.V. Theme songs to bring bands to the stage. How about the bands' songs? Given the general poverty theme, they could all use the exposure. I don't really need to here a (cover) take of "Diff'rent Strokes" or "Knight Rider," thank you, I suffered the ignominy of living through them the first time.
As a first go round, show producer Danny Fournier pulled off the feat admirably. The venue was downscale, the hosts were overreaching, the sound was occasionally dubious – and they didn't play the winning video from Mockteerah and director Holden Daniels . But throughout, the EMAs showcased a huge amount of Edmonton talent, perhaps fittingly with less glitz and glamour than is typical of music awards shows.
Oh, and Alan Cross gave away best Album, albeit by video, to the not-present and touring Hot Panda. So, you take the good with the absent and the possible.
The event moves to the Myer Horowitz Theatre in 2012. Overreaching? Not even a little.