PREVIEW: Flat-out on the road with The Flatliners
The members of Toronto punk band The Flatliners never learned what it's like to live a normal life after high school.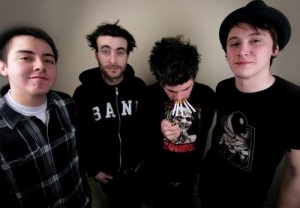 Now in their early 20s, the guys have spent their last four years slugging it out in bars and tour vans across North America, Europe and Japan.
The quartet recently tried to give life at home a shot, and just got back out on the road after its longest break yet – a staggering three months.
"It's the longest amount of time we've had at home in about five years," says frontman Chris Cresswell.
"It was good, though. It was a little breather, you know. It was kind of weird to be at home for that long … Now we have our tour legs back on."
The Flatliners will bring those tour legs to the Pawn Shop Sunday night (April 3), along with openers Living With Lions , Feast or Famine and Greater Than Giants.
It was during the making of the Flatliners' latest album Cavalcade that Cresswell realized he missed being at home.
Or maybe just that he'd at least like to give it a shot.
"A lot of the lyrical content on that album has to do with being away from home. And it really honestly wasn't until we were all sitting around in the studio with almost all the songs completely done, that we started to realize that there was this recurring theme of being away from the people you love and the places you grew up," Cresswell says.
"But at the same time, you're away from those people and those places because you're doing what you love. And it kind of tangles you up sometimes. You get a little conflicted in a way."
Right around Christmas 2010, the timing was ripe for a break: the album was doing well and its first two singles, Carry the Banner and Monumental, were even getting a bit of radio play in Western Canada.
Besides, we're talking about Canada in December. Most people won't even leave their living room if they don't have to.
"We still toured for 10 months last year just before and after the record came out. But then at the end of the year, we were just like, you know what, it's been five years since we had a good chunk of time out. Let's just hang for a little while," Cresswell says.
"It is the winter too, so the only places we could really tour in the winter without freezing our bags off are probably somewhere that's pretty expensive to get to."
The band members' deep friendship bonds make their perpetual road trips much easier to deal with. They formed the band in their early teens and have been friends nearly all their lives.
Cresswell went to kindergarten with guitarist Scott Brigham, grew up on the same street as bass player Jon Darbey, and met drummer Paul Ramirez in camp as a kid.
"You spend a lot of time in close quarters with the same guys, and the fact that we all know each other super well and it's not just guys we only see when we're on tour – the stress level can be cut so easily," Cresswell says.
"We're lucky to be in that situation."
Tickets for Sunday's show are available for $10 here.