REVIEW: Food so good, it's almost rare
Safron's Caribbean
8307 118 Avenue
780.474.9005
At 2:30 p.m. on a Tuesday afternoon, just two blocks from the infamously sleazy old Cromdale Hotel, 118 Avenue feels about as far from the Caribbean as you could get. In the middle of March, of the sun, the surf and the poverty, the adjacent neighbourhood offers only the latter.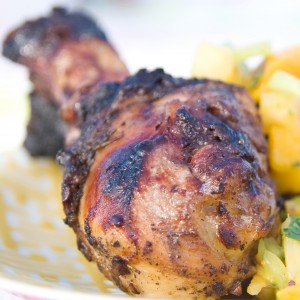 But you get past that initial view, and there are some things in common: 118 Avenue is developing a tight, multi-ethnic sense of community; the people are generally friendly and hard-working; there is absolutely no sense of political correctness; spicy food and beer are much appreciated, as are good friends and good company; people work odd hours, have odd names and have been to odd places.
Let's face it, 118 Avenue is starting to become pretty cool.
And at at least one neighbourhood restaurant, things work on Island Time.
I was born and raised in Africa, and have lived in a number of different cultures, so I can attest that many, valuing a more relaxed view of life, have what they term a local "time." In Africa, it's "African Time." In the Caribbean it's "Island Time" or "Caribbean Time." What it usually means is this: relax, be patient, and things will eventually get done. if you're in a hurry, you're in the wrong place. Personally, I like it. For some, it's an exercise in a frustrating inability to manage their ridiculous schedules.
Island time is definitely the case at Safron's Caribbean, a small restaurant at 118 Avenue and 83 Street. But it's not that the staff aren't working hard; they're moving constantly. It's just that the place is so popular that it can't really keep up with the demand.
And as such, you have to accept you're on "Island Time": it'll take five to 10 minutes just to place your order.
It's such an ever-present concern that sometimes it's hard to even classify the place as a restaurant: it's always running out of food, because everything is cooked from fresh, and if you get there after 6:30 p.m. most days, forget about it: eveything but the oxtail will be gone.
It literally took three visits to Safron's to get a meal, and on the third — in the middle of the afternoon — they were STILL already sold out of half of what I wanted, including their homemade patties.
This is also testament to just how good the food is, some of the best caribbean curry and jerk chicken you'll find in Alberta, maybe the best.
I expected the usual potent concoction of prepackaged yellow powder and potatoes, but instead got a goat curry that had obviously stewed for hours, the fat from the goat blending with the spices, onions, potato and beans into a fall-off-the-bone addiction. Really, the stuff is that good, and the spice is applied with careful precision, so that it takes a while for the heat to catch up with you.
The jerk chicken is something entirely different from the bland, dark, sticky mess many Caribbean restaurants serve up; while also being fall-of-the-bone tender, it's smoky, malty taste lingers on your tastebuds and there's no hint of bitter blackening. It's absolutely delicious, the best I've had. Anywhere. In fact, it's one of the best chicken dishes I've had in Edmonton in the last 20 years.
Both in a substantial combo with rice and coleslaw clocks in at $13.50, which is OK — a better deal is to go with a friend and each get an order of one or the other, then share. It's a couple of bucks more, but a lot more of each type of food.
The restaurant has an extensive menu featuring everything from oxtail (a dry, peppery beef stew that's hard to describe), patties, and fish dishes to Jamaican desserts; again, this is a hit-or-miss proposition: it was out of its much-lauded rum cake on each visit, and I missed the homemade patties by literally one patron… in the middle of the afternoon.
The restaurant itself is very much a little corner of the Caribbean, with a wide selection of important beverages, including coconut drinks, ginger beer, Red Stripe for those who like their beer with alcohol, and a couple of counters full of hardcore reggae and dub CDs. There are only a few tables, so your best bet is to assume it's takeout, then grab one and take a load off, if you're lucky enough to have the option.
In the old days, when almost every small restaurant relied on home-cooked food, Safron's would've been called a lunch counter, which I expect is when it sees the bulk of its business. You don't have to show up at noon, but the longer you leave it, the more likely you are to be on Island Time.
And even if it does take a few trips back for you to sample something specific (one dish is notably only served on "Saturdays, after 1 p.m.") the place is licenced — so that's not such a bad thing.