FASHION: It's a wrap! Or is it a shawl?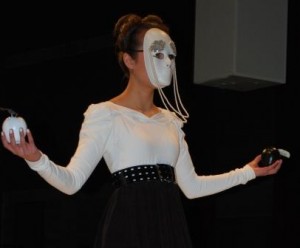 We've had a fabulous time at Western Canada Fashion Week, darlings. So many beautiful people, so much couture, some of it both hot and haute, so many divine duds, so much marvelous hair – sometimes too much – and also perhaps a bit too much wine. It was all a blur.
The event wraps tonight at the Transalta Arts Barns, featuring fashion shows from the designers Sofiss (Edmonton), Adejoke Taiwo (Calgary), Kelsey McIntyre (Edmonton), Jessica Halabi (Edmonton), Emogene Couture (Calgary) and Joeffer Caoc (Toronto). Tomorrow (Friday, April 1) is the wrap party presented by Latitude 53 in an abandoned building located at 10575 109 Street. Ooh, how exciting. They'll have DJs and everything. Wine, too. Actually it's the space once occupied by Donovan's Fashions, which went out of business. The world of high fashion is a dog-eat-dog industry. Tickets are available at Tix on the Square, or by calling 780.409.1910.
Here are some highlights (and bonus bitchy comments) from the hair salon showcase on Sunday, March 27, and the fashion showcase on Tuesday, March 29, featuring bold new threads by Yohji Yamamoto (Y3), Vancouver's Genette Salgado and Edmonton designers Tressa Heckbert, Lisa Marie Sciroli and Rebecka Pichoch.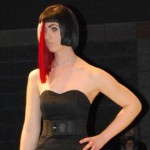 From a student at MC College (Marvel), seeing red on the right side – just like politics!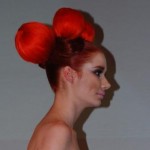 Pom-poms from Salon Montage, non-detachable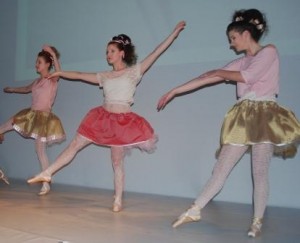 Holy back-comb, Batcombman! These models from Salon Montage aren't professional dancers, but points for trying!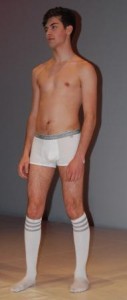 The Eveline Charles Salon had all its models in their underwear, presumably intended so observers wouldn't be distracted by fancy clothing. The result had exactly the opposite effect.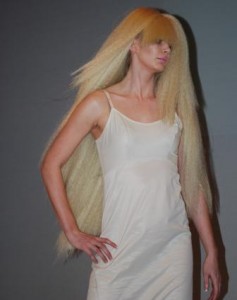 Eveline C piles it on: Crimping is in – just not so much of it.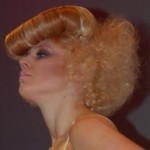 Could be a small chicken hiding in there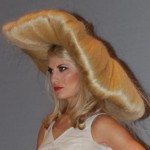 Another fabulous coiff from Eveline Charles. Keeps the sun off your face.
Not recommended for rain.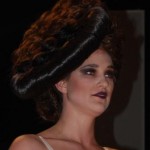 It's a giant chocolate-filled chocolate doughnut! Mmm, doughnut.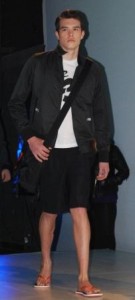 Practical men's wear from Yohji Yamamoto (Y3), available in Edmonton at High Grade Clothing. Even the 'murse' is cool. OK, it's a shoulder bag.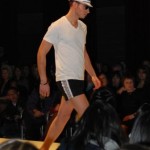 More casual male y3 couture. Short shorts on men are back! Again! In places where it never snows!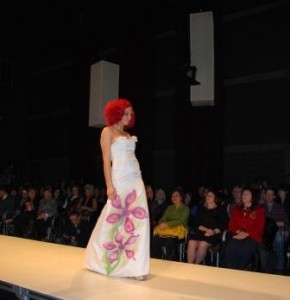 Nice fresh piece from Edmonton designer Lisa Marie Sciroli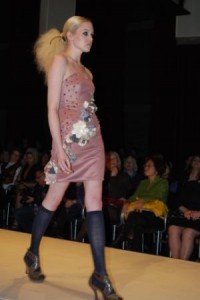 GigCity's favourite from what little we saw – from Vancouver designer Genette Salgado. Nude tones are hot this year.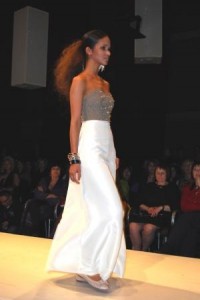 Having pro models and great hair really helps on the runway – beautiful work.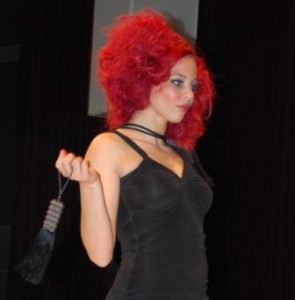 From Edmonton's Rebecka Pichoch: The 'little black dress' never goes out of style. And that purse just might hold one single tube of lipstick!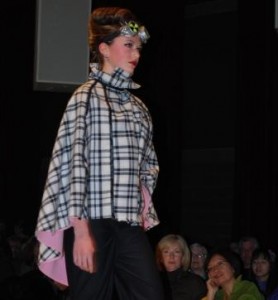 More from Rebecka: Plaid rhymes with 'bad.' But those goggles should protect the wearer from unexpected nuclear fallout.