High octane estrogen on stage at the Roxy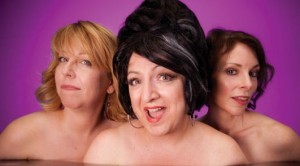 As a tradition, men are a rarity in the audience for your typical Hey Ladies! show – an all-female comedy revue taking place Friday, April 1 at the Roxy Theatre. "But you (men) are always welcome," purrs co-host Davina Stewart, aka Ms. Davina.
"No vaseline on the doorknobs," she warns, "no salt in the sugar bowls. Just great comedy, prizes and guest stars."
Anyone who has seen a past show (each one is different) can attest that it is indeed a potpourri of surprises hosted by three classy ladies who aren't offended when you call them "broads" – especially when the things get raunchy. Improvisation is a large part of it. Ms. Davina's co-hosts are Ms. Cathleen (Rootsaert) and Ms. Leona (Brausen). These experienced local comediennes, all venerable veterans of the Die-Nasty live improvised soap opera, offer two hours of high-octane estrogen that will make you forget you ever saw The View. Their once-a-month-or-so show usually sells out. (Next one is May 20.)
Guest stars for the April 1 "No Foolin'" edition of Hey Ladies! include the Pap Duo (don't ask) and the dance troupe Breaking Barres. Paul from PB Beverages will be hosting rum liqueur tasting, ladies will be cooking with wieners, an "honourary" lady will be helping with the "Dear Ladies" questions from the audience, and of course there's the ever-popular 'What is it?' contest. As always, the Ladies play their own version of The Match Game (modeled after the 70's celeb panel game show), this time with an April Fool's theme.
Even the intermission is part of the show, what with the tasting of fancy booze and sampling of scrumptious nosh.
"We refer to it as our 'interactive, scratch 'n' sniff' lobby", said Ms. Davina. She made a point to mention that the three Ladies will be wearing Peignoir sets, dresses of polyester chiffon. "Fancy pajamas," she says. "In spring colours."
Heads up to the odd male who does show up: "Because the women vastly outnumber the men in the audience," says Ms. Davina, "We ask that the men to use their washroom quickly, so the ladies will then be able to use both."
What was that about ladies cooking with wieners? Again: Don't ask.
Tickets to Hey Ladies! are $25 and available online here, or call 780.453.2440.