ELMO COMING IN JULY – 'pre-sale' tickets on sale today!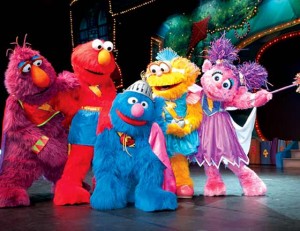 Now here's a heck of a coincidence: The Sesame Street Live production of "Elmo's Healthy Heroes" at Rexall Place July 22-24 happens mere DAYS after Katy Perry's show in the same building. What are the odds?
You remember how the pop temptress recorded a duet with Elmo that Sesame Street producers decided to axe because her outfit was too revealing? (See video here.) Man, you could hardly see those breasts – and we're REALLY looking. It obviously has nothing to do with Perry's lyrics about allowing a boy to "put your hands on me in my skin-tight jeans, be my teenage dream tonight." Yikes! Don't want our precious little tykes to grow up too fast now.
So it's back to the wholesome mega-event of the summer for the pre-schoolers of Edmonton. Elmo's Healthy Heroes is a tale about Super Grover losing his superness, and how his muppet friends Elmo, Abby Cadabby and others help Grover get his mojo back. How? Why, healthy lifestyle habits, of course: Eating your vegetables, getting enough exercise, brushing your teeth, and so on. These messages and more will be rendered in colourful song and dance routines by colourful, giant versions of the Sesame Street characters – so the tots hopefully won't think they're being preached at.
The pre-sale for tickets ($15, $22, $28, $40 and $70 for "Sunny Seats," which includes a meet 'n' greet) starts today. Pre-sale? Why don't they just call it the on-sale and leave it at that? OK, whatever. Just click here for the super-secret Ticketmaster portal and enter the super-secret password "SEWP."
And let's hope Katy Perry can hang around Edmonton a few days for the meet and greet. Maybe Elmo will want to play dress-up this time.