Hot Picks, April 1: Rock Lobster Day!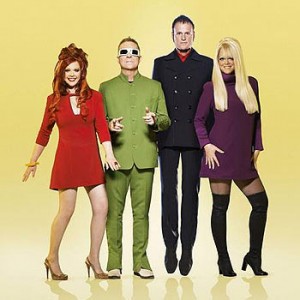 April Fool! There is no April Fool's joke! That's the joke. Really.
We couldn't possibly make up anything so crazy or unbelievable in the realm of arts and entertainment that Charlie Sheen hasn't already actually done it – so why bother? Let's just get on with today's cool gig.
Guys: You want to seriously impress your date tonight? Take her to a fine rock lobster dinner at the River Cree Casino's Sage restaurant – followed by a show by the one and only B-52s! They got a Marriott Hotel there, too. You can get a room. It's a Rock Lobster kind of night.
Never has any band brought so much attention to one humble crustacean as the B-52s. They were one of the best bands to emerge from 1980s "new wave" movement, responsible for fun, wiggy dance songs like Love Shack, Private Idaho and of course the song everyone will come to hear: Rock Lobster. Plus giant beehive hairdos. While suffering through the AIDS-related death of guitarist Ricky Wilson in 1985, the Georgia band is still going strong. Why, they even have a fairly new album to flog: Funplex – featuring the same brawling bray of lead singer Fred Schneider and the sweet, sweet back-up vocals of the singers Kate Pierson and Cindy Wilson. Wonder if they can still hit those high notes?
Find out tonight! Charlie Sheen will be sitting in with the band. No, not really. April F …
The River Cree Resort and Casino is located out of town on Enoch Reservation land, rising out of the bush like a castle in the wilderness – which is basically is. You can even pay tithes to Lady Luck at the craps tables. Drive West on the Whitemud until it turns into a country road and you can't miss it (or follow the Google map directions here).
Tickets to the B-52s are $50 and on sale online here. Or call the River Cree at 780.484.2121 for details or dinner reservations. And when the waitress at the Sage claims that rock lobsters don't actually exist, remind her that it is the nickname of the common spiny lobster – Decapoda Reptantia – which lives mainly off the shores of Africa and Australia in the Indian Ocean. Watch how impressed she is. April fool! There is no such thing as a rock lobster! April fool again: Yes there is.