PUBLIC ART: There's a cool new 'thing' in Edmonton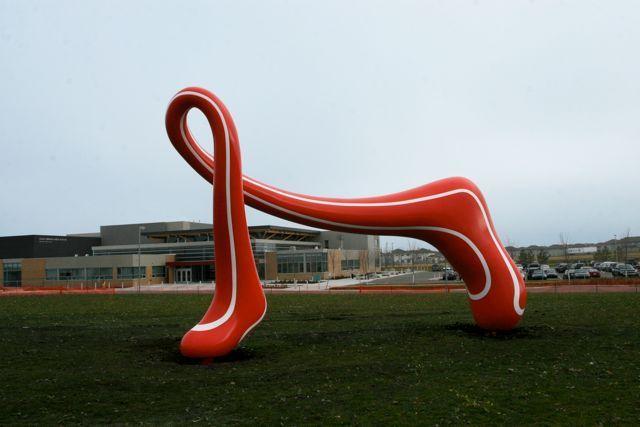 There is by definition almost no art more accessible than public art – and with absolutely no exaggeration Edmonton is doing its absolute best to become one of the country's renowned public art cities.
Whatever your favourite open-air installation might be, from the Gretzky statue to the astrology mosaic circling the old Queen Elizabeth Planetarium to Josh Holinaty and Luke Ramsay's Giant Transition mural, chances are there's something out there on the streets and parks that makes you stop and smile, even if it's scarf graffiti knitted around a tree. Recently joining our growing collection of officially curated permanent art is Running Track, part of German creative collective Inges Idee's pun-filled and often sports-themed public work around the planet. A giant pair of sprinting legs with the sheen of a sports car, the foam-and-Fiberglass sculpure glows with the colours of a running track impossibly come to life. Placed outside the new Terwillegar Community Recreation Centre, the piece riffs off both the hues of the structure and its intended purpose.
Artist Axel Lieber, who works with four partners in Berlin, was thorough in his presentation last night at the Art Gallery of Alberta (AGA) to point out the nuances of the work, taking us on an inspiring tour through Inges Idee's previous creations.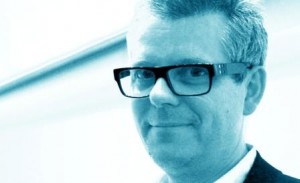 "Couldn't it be just a little more crazy?" he said, re-enacting the development of an earlier installation, an ideology which affected Running Track as well, which was originally envisioned as a giant Gumby-looking figure strutting along. As the process went along, the legs were stretched wider and, as he put it with a smile, "one of us cut off its head."
Lieber's talk was presented by M.A.D.E. – Media, Art and Design Exposed – a volunteer organization whose mandate is to increase public awareness of design and art in the city. Ignes Idee was hired by the Edmonton Arts Council to design the smooth, eight-metre sculpture, and Calgary's Heavy Industries fabricated the piece. Heavy works often with Douglas Coupland, and made Ignes Idee's The Drop on the edge of the new Vancouver Convention Centre, which was rushed to completion for the Olympics only to have it temporarily removed because a TV station wanted the spot on the edge of the water. The fabricators are currently working on a 10-foot squirrel which will live in an small town Alberta park.
The most amazing part of Lieber's hour-long lecture at the gallery was the grand tour through their pieces. Especially moving were their abstractions of existing iconography. For 2008's Wild Horses, they recast the mounts from two traditional, inaccessible pedestal monuments and put them onto street level, where kids can ride them and pose for photos. The piece remarkably removes class structure and is, to, boot, alarmingly beautiful. Their Little Red Riding Hood piece was even more moving. Placed in front of a former Nazi building in Germany, the oversized sculpture was a remake of a porcelain ornament from the '30s of Little Red Riding Hood and the wolf. But in the new, greatly enlarged version, only the impression of the wolf – and his footprints – remains. The implications are numerous, including as a reminder not to brush over evil.
On the sports theme, II has done everything from a car-sized and -shaped ball outside a Taiwan studium to a hilly basketball court to, ingeniously, a football pitch with a canal running through the middle. Running Track is in excellent company, part of a series we might not have otherwise understood if M.A.D.E. and the AGA hadn't brought Lieber in.
The group is also presenting a panel discussion on April 6 at the AGA called Designing Downtown: Between Two Cities.