MUSIC: Jenn Grant's Egyptian solitude
Jenn Grant admits she's a bit of a home body when she's not on tour.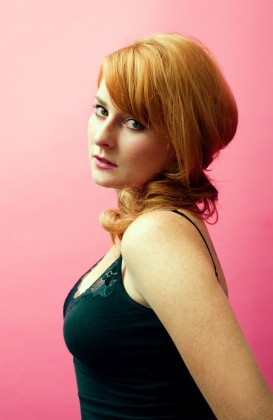 Traditionally, Grant has always written songs at home, and her friends have to drag her out of the house these days when they want her for a night on the town.
But when she wrote the opening track to her new album Honeymoon Punch, she couldn't have been further from her humble abode.
The maritimer wrote Oh My Heart, as well as the song Where I Met You, while on vacation in Egypt.
Pre-uprising Egypt, thankfully.
"I was there for a month visiting my best friend, traveling around the desert with her, riding camels under the moon and picking desert flowers with strange men – strange old men with long beards," she recalls.
Grant plays the Pawn Shop Thursday (April 7) with opening act Del Barber.
The trip inspired a new sound on Honeymoon Punch that is markedly more upbeat than her previous 2009 effort Echoes.
The new disc also employs a full band, removing her from the singer/songwriter reputation she earned with her '05 debut EP Jen Grant ad Goodbye Twentieth Century and her first full-length Orchestra for the Moon, which featured collaborations with the likes of Ron Sexsmith and Matt Mays.
"(Echoes) was kind of somber and delicate, and I wanted to remove myself from that. And just be somewhere completely different so I could feel like I was writing (from) a different place," Grant says.
"(Egypt), for me, felt like it was as far away as I could get. I got totally inspired by being in a country where I was just totally alone."
Once she was done consorting with strange old bearded men, she returned home to Halifax and her boyfriend Daniel Ledwell, who also happens to be a producer.
After some hesitation, Grant decided to work with Ledwell on the album, resulting in a continuing transformation of her sound.
"It took me a while to decide if that was the right choice because we're a couple. And it turned out to be a really good experience working together," she says. "I really enjoy working with him, we understand each other really well and it's fun."
It's a little more difficult to write sad, lonely acoustic songs, though, when you're spending all that time with a loved one. So Grant beefed up her sound by adding other musicians into the mix.
"I'm in a place where I feel like I can write things that are a little bit more upbeat, because I feel like that's something I have inside of me that I want to share right now," she says.
"(Ledwell) has come from a more rock'n'roll background I guess, more pop and rock influences. And it helps me break away from the singer/songwriter thing a lot."
One listen to bouncy lead single Getcha Good, and you can tell the risks she's taken have paid off.
"I think there was actually a lot more to what I want to do, and it's taken me a while to be able to get behind it and represent something like that," she says.
Grant will  front a four-piece band Thursday.
For something a bit different, check out this collaboration with fellow Halifax musician Buck 65.