Hot Picks: Big Band Boom!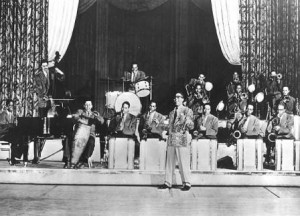 We don't get to see many big bands anymore – which is why tonight's swingin' gig at the John L. Haar Theatre (10045 156 Street) is such a reet pleat treat.
Big bands from both Grant MacEwan University and the University of Alberta will combine for one big band bonanza. They'll blow through charts from such cats as Duke Ellington, Johnny Mercer and Cole Porter, along with some original tunes by Canadian writers. It's going to swing, it's going to jive, it's going to be-bop a lu-bop till the break of dawn. Well, curfew.
Few are alive today to remember the Big Bang Bubble that started in the mid-1930s. Edmonton pianoman Tommy "the Senator" Banks came along later (he'll be there tonight doing a presentation in honour of the late Craig Magill). But he could tell you: shortly after jazz was invented, everyone and their mama picked up a horn and the big band boom was off and running. Strangely, as the Depression wore on, the size of popular swing bands increased as hungry fans demanded bigger and bigger big bands. We may be poor, but we love our swing made LARGE. Imagine: Calloway would come out with four saxophones, Dorsey would up the ante with six saxes and four trombones and then the Duke would beat them all with a battalion of a dozen saxes, 6 trombones, a octet of trumpets and two tubas. The big bands grew so large that two busses would be required to transport the average big band and all its gear. They had to pack 10 men to a hotel room, share one toothbrush, split the weekly pay of $10 thirty ways, subsist on bread crusts. (Imagine.) It couldn't last – and it didn't. The bubble burst. Big bands were still around, but at lot of other forms of music were popping up by then so their undisputed reign was over. Plus there was World War II to deal with.
Why were big bands so popular? That's easy: they sound GREAT. Once you hear a good one live, there's no turning back: it won't mean a thing if it ain't got that swing. Tonight's 7:30 p.m. show is a helluva deal, too – just $11.50 for adults, $9.50 for students, on sale online here, or ($2 more expensive) at the door.