After 56 years, CKUA eyes move to new Alberta Hotel building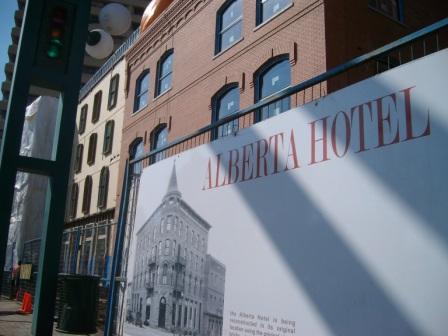 CKUA hopes to move out of the Alberta Block on Jasper Avenue and down the street into the soon-to-be-completed Alberta Hotel property, local developer Gene Dub confirms.
"CKUA has made an offer on the building, but it's a conditional offer," said Dub, the owner of the Alberta Hotel building.
"Everybody is hopeful all the conditions can be met."
CKUA issued an official press release today that confirms the plan. The move will take place next year. CKUA CEA Ken Regan says, "Working in a 100-year-old building has inhibited our ability to both deliver and enhance our programming. It is necessary for CKUA to position ourselves for continued success in the future in order to carry on this legacy through radio that serves the community."
Realty firm DTZ says in its listing for the Alberta Block, located at 10526 Jasper Avenue, that the property will be vacant in the fall of this year.
The asking price for the 37,028 square-foot building is $3,200,000.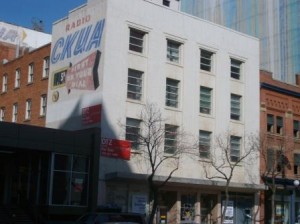 "The building, which is serviced by a single elevator and demised [sic] into numerous offices, is fully functional and could easily be converted into rental offices when CKUA relocates," the website listing states.
The Alberta Hotel near the corner of Jasper and 98 St. is a re-creation of the original hotel which stood about half-a-block from the spot until 1984 when it was demolished to make way for Canada Place. Bricks from the original, which have been in storage, have been used in the new building.
The original four-storey hotel hosted Prime Minister Wilfrid Laurier in 1905 when Alberta joined Confederation.
Dub said the new building should be finished by the end of next month. Landscaping will take longer, he said.
In 2009, media reported that Dub said the new building would have 14 luxury hotel suites. But on Tuesday he said CKUA is keen to be in the neighbourhood, as well as the new Alberta Hotel.
"They'd really like to be part of the arts distict in that area, and they also like the historical aspect of it," Dub said.
CKUA moved into the Alberta Block in 1955. The building was built in 1912.
The listener-supported radio network starts its annual spring fundraising campaign today (April 7, read story here). Announcers are expected to reveal some of the details of the impending move. Keep listening (94.9 FM in Edmonton) for more.