Hot Picks: My Chemical Romance ready for Broadway?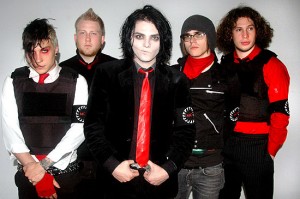 It has been said that My Chemical Romance – playing a sold out show tonight at the Edmonton Event Centre – is the biggest emo band to ever deny they were an emo band.
That word may be so early-2000s, but whatever it used to mean, the word is used to describe "punk rock with melody" or "punk rock for girls," depending on where you stand – and we're into the infinite fractal-like subgenres of punk rock again. But let's face it: The sweet and sour flavour of the post-hardcore emo-horror-punk style epitomized by bands My Chemical Romance goes over great with women – especially when you have a lead singer who looks like a character in the Twilight Saga. And therefore My Chemical Romance sells more records than punk bands that don't have hordes of screaming female fans. It's just simple logic.
Fans at the show tonight will look forward to MCR's huge hit from 2006: the operatic pop-punk anthem Welcome to the Black Parade – nice message, lots of drama, slow power ballad part, fast punky bit at the end. Also expected to draw screams is the new hit, a manic blast of fun called "Na Na Na (Na Na Na Na Na Na Na Na Na)." (Count the total number of Nas in the song for extra fun.) You could totally see these songs rendered into a Broadway musical, don't you think? Green Day paved the way for punk on the Great White Way and American Idiot was just the beginning. MCR is the best next candidate for a punk rock Tony Award – more proof, if any is needed, that punk rock is bigger and better than ever. Or dead, depending on where you stand.
Opening the show will be the Neon Trees and the Architects.