LIT: Wayne Arthurson's killer job
Edmonton, are you exotic? No, you couldn't be. How could a city like you, Edmonton, with your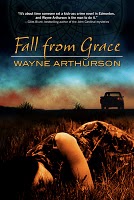 cold and snow and your northerliness and your general sense of Edmontonness be exotic? Oh sure, you made the Top 10 in that livability list of Canadian cities recently, but that's livable; it's got nothing to do with exotic.
All that will change on Thursday at Audrey's Books, when Wayne Arthurson officially debuts his new novel, Fall From Grace (he's discussing it tonight at the ARTery). Sometimes you need to look at yourself through another's eyes in order to see the things you so easily miss (or dismiss), but baby, take another look.
"When my editor first called Edmonton exotic, I responded the way I think most Edmontonians would respond, surprised that others see my city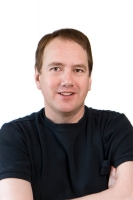 in that way," says Arthurson. "But when I thought about it from my editor's point of view, then I understood. Because many people in the U.S., and even in some parts Canada, know little or nothing about Edmonton. Our climate, geography, culture, attitudes, etc., is very different from what they know and in that sense, it is exotic. Which is kind of cool, especially since I'm able to pass that on to my fellow Edmontonians."
Fall From Grace is Arthurson's first of two novels for his American publisher, Forge Books, and it marks the debut of accidental detective Leo Desroches. In fact, it was a different novel that he thought would be his debut. Arthurson had originally submitted the manuscript for what will be his second release for the publisher, A Killing Winter, and included a brief summary of this book in the package. It came as a bit of a surprise to him, not only when they wanted to sign him for both books, but also to reverse their order.
"For a day or so that was a bit daunting, but then the professional writer in me kicked in and started working," he says. As for any other adjustments that had to be made, Arthurson adds, "I did have to be careful about accidently revealing any plot developments from the now second book and not to use similar scenes or descriptions that I had written before."
With one novel about to hit the shelves and the next practically written, you would almost expect Arthurson, who describes himself as "a lazy man," to be taking things easy at this point. But it's not the case. He's found a character he feels he can work with in Desroches, and so he finds himself doing preliminary research for the third book in the series at the same time he continues to slug it out as the freelance writer he is at heart and allows himself the occasional opportunity to fantasize about possible ideal futures.
There is the Dan Brown/JK Rowling scenario where everyone buys his books, movies get made, and so what if the critics don't like them so much; this sort of success makes diabolical laughter in the face of criticism highly affordable. "And while I still live in Edmonton in the same house I live in now, I also own homes in warmer climes so I can visit them in the winter. I also establish the Edmonton Writers Centre and some kind of literary major award/scholarship/grant program for Edmonton writers."
There is a variation on that theme wherein Arthurson achieves both financial and critical success, driving him to eventually tire of it all, leading to Desroches' untimely death, alienation of critics and fans alike, more diabolical laughter, but still that support for local writers.
"And then there's the fantasy of just hoping to sell enough copies that I can make a decent living writing novels. If that happens, I will also laugh diabolically, because that would be totally awesome as well."