Edmonton Arts Council a great stress-reliever for local artists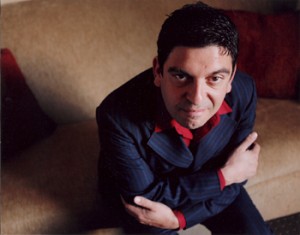 It sure is sweet when you're an artist who doesn't have to scrape for every buck to pay the rent.
Thanks to the Edmonton Arts Council, 16 talented Edmonton artists will enjoy that chance – for a couple of months, at least – with an extra $7,500 each. Musician Ben Sures (right) and filmmaker Trevor Anderson are two of the nine worthy recipients of EAC's Edmonton Artists' Trust Fund Awards, it was announced at City Hall yesterday. Seven other local artists who had come to live in Edmonton from countries were also were named winners of the Cultural Diversity in the Arts Awards. These are "subsistence" grants, designed to allow artists "a concentrated period of time to devote to their artistic work."
The result – more art in Edmonton.
Anderson, whose recent documentary short High Level Bridge made the rounds at the Toronto Film Festival, Sundance and SXSW, says, "These awards are the most visionary grants I've ever heard of – so I'm honoured. I think it's an inspiring thing to give artists money so they have time to make their art without having to hustle for a day job for a couple of months."
Sures, who agrees the award is an amazing way to keep working "with less stress," is an award-winning singer-songwriter, recording artist and radio producer whose latest album, Gone to Bolivia, will have its release party May 12 at the Westbury Theatre in the Transalta Arts Barns. Drinks are on Ben. Not really. The EAC chooses these winners carefully. None of them are likely to blow their $7,500 to party like Charlie Sheen. They are all SERIOUS artists.
Here are the 2010 EAC award winners:
Edmonton Artists' Trust Fund Awards:
–     Trevor Anderson: filmmaker
–     Ben Sures: musician
–     Tim Bowling: author of nine poetry collections, three novels and two works of non fiction.
–     Linda McBain Cuyler, multi-media visual artist whose work is inspired by nature.
–     Drew McIntosh: documentary filmmaker and founder of Solidarity Rock, which builds musical connections between Western Canada, the US and Cuba.
–     aAron munson: experimental filmmaker.
–     Cam Neufeld: veteran local fiddle player.
–     Kristine Nutting: independent theatre artist, writer and producer.
–     Eryn Tempest: contemporary dance artist.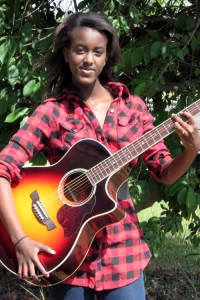 Cultural Diversity in the Arts Awards:
–     Macha Abdallah (right): 18-year-old singer, dancer and model.
–     Korapin Chaotakoongite: documentarian photographer.
–     Da Wei Chen: Cantonese opera performer, director and script writer.
–     Jean-Claude Kamov: singer, composer and director of the Congolese Choir of Edmonton.
–     Constantino Lucila: dancer of classical ballet, modern ballet, Philippine folk and ethnic dance, and jazz.
–     Yukari F. Meldrum: certified translator, teacher and writer.
–     Valeriy Semenko: graphic artist whose work has shown across Europe.
"We are pleased to be able to invest in Edmonton's artists with these awards," said EAC executive director John Mahon. "Communities everywhere are realizing just how much arts and culture contribute to innovative, healthy and humane places to live."