Hark, good citizens: Ol' Mack is Back at the Walterdale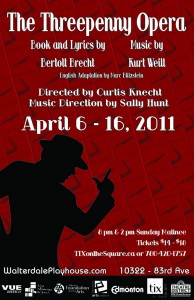 Roll up, roll up, good sirs, and cast yon sideways glance at this middling trifle we emblazon with the status of "Hotpick."
T'was in olde London town that a beggar named Macheath – Mack the Knife – strove to wed a comely maiden named Polly. Suffice said, her father, the King of the Beggars, did not approve.
Anyway, long story short, bada boom bada bing – pow! – he's in the hoosegow, waiting for some dude to perform a spinal disconnection via ye old hangnoose.
Naturally, this does not sit well with Mack. And since The Threepenny Opera is a famous piece by German playwright Berthold Brecht (music by Kurt Weill), you can bet all of this has something to do with communism,or socialism, or both.
Now that's a setup.
The Threepenny Opera starts tonight at the Walterdale Playhouse and Runs through April 16. Tickets available from TIX on the Square or call 780.420.1757 – $14 – $18 depending on night chosen.