ART: Emily Carr's passion for nature at the AGA
There's a languid grace and deep passion infusing Emily Carr's thick brushstrokes and vivid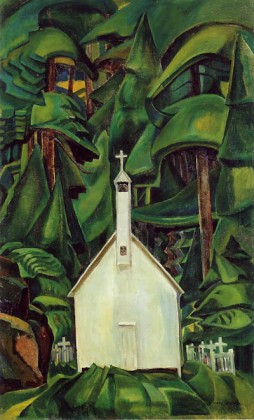 re-creations of the Canadian west, her post-impressionism and post-cubist curves respecting the fluid lines of traditional aboriginal art.
Perhaps we still find the Canadian painter so compelling for the same reason that we respect John Steinbeck's literary work from the same period: both are driven by an obvious passion for humanity and the beautiful ability to describe it, particularly an affinity for the land itself. But there is also a didacticism, a desire to instruct in their work, so that that beauty can be appreciated and protected during a period in history when the seemingly ancient and sacred was increasingly at odds with the modern world.
Carr was hardly a modern political activist, but her work respected nature and our need to co-exist with it, likely due to her affinity for aboriginal peoples. It made statements with a subtlety uncommon in the modern age.
Her motivations and her career arc will be discussed in a lecture at the Art Gallery of Alberta on Wednesday, April 13 by University of Montreal Prof. Johanne Lamoureux.
Lamoureux holds a doctorate from the École des Hautes Études in social sciences and a Masters degree in art from the Department of Art History of the University of Montreal . Along with Charles C. Hill and Ian M. Thom, Lamoureux was co-curator of the major exhibition Emily Carr: New Perspectives on a Canadian Icon.
The exhibition Nature and Spirit: Emily Carr's Coastal Landscapes consists of 35 works (Above: Indian Church; Right: Big Raven), including examples of her early experiments with European modernism, a selection of later works that reveal her fascination with the art and culture of the aboriginal people of the Pacific Northwest coast, and its landscape.
This international touring exhibition is organized by the Vancouver Art Gallery and presented at the Art Gallery of Alberta by Stantec. Tickets are $10 for AGA members and $15 for non-members.
The exhibition will remain on view until June 5, 2011.