CONCERTS: Carmen Electra, Art Garfunkel, Men Without Hats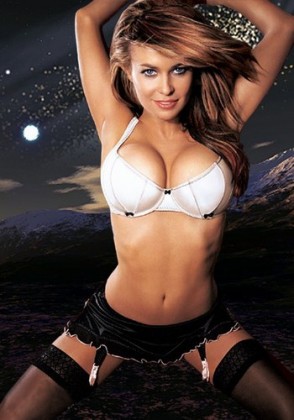 The Pussycat Dolls are coming?!
No, it's the Pussycat Dolls BURLESQUE REVUE – a Vegas-style show featuring music of the Pussycat Dolls without the actual Pussycat Dolls, coming to the River Cree Casino Saturday, June 18. Don't pull a long face: There is some celebrity oomph to the event: The special guest star will be Carmen Electra, dancer, actor, Max Factor spokesmodel and ex-wife of Dennis Rodman. TMZ, where are you? Expect plenty of glitz and glamour and Pussycat Doll songs like "Don't Cha", "Buttons", "When I Grow Up", mixed with "a new dance twist" on songs like "Fever", "Hey Big Spender" and "Foxy Lady." Perfect for a casino gig, in other words.
Tickets to the show are $50 and go on sale Thursday, April 14 at 10 a.m. here.
Speaking of singers who act and actors who sing so much that you can hardly tell where it all started, Art Garfunkel is coming to perform at Sherwood Park's Festival Place on Saturday, September 24 – a big show included in today's announcement of the Festival Place fall 2011 season. Garfunkel, who was officially known as "that other guy" in the legendary group Simon and Garfunkel, has appeared in such movies as As Good As It Gets and Lost in Translation, all while continuing to release solo albums – at least 10 from the studio at last count. This guy has a lot of depth in the old musical backfield.
Other Festival Place shows announced today include Leon Russell on Nov. 5, the Downchild Blues Band on Nov. 25 and the Crash Test Dummies on Nov. 26.
Tickets to all shows are on sale now, online here, or call 780.449.3378.
Completing our trifecta of concert announcements today is Men Without Hats at the Century Casino on May 13. Montreal's new-wave heroes – responsible for hits like The Safety Dance and, um, well, the name of that other hit will probably come to us later – have mounted their first cross-Canada tour in 20 years. It's called the Dance If You Want Tour. And we will. Nice to know that dancing is not mandatory. Yet.
Tickets to the show are $34.20 and on sale here.