Hot Picks: Is Pretty Panty Party sexist or just good fun?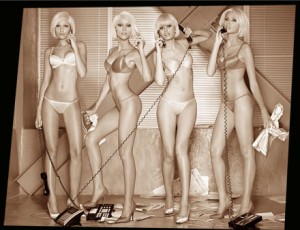 There's nothing we like better than a good panty party. It's fun when girls wear them, too.
Seriously, if you like house music and hot women dressed in panties – and it's hard to see how such a combination could go wrong – you won't want to miss tonight's Pretty Panty Party at Level 2 Lounge, 11607 Jasper Avenue. The event will feature an all-female line-up of DJs: DJ Tz, Wadjit Tianna and JK Stylez and DJ Krunkensteen – and all of them will be dressed in nothing but bras and panties. The female waitresses taking your drink orders will be dressed in nothing but bras and panties. Audience members are required to be dressed in nothing but bras and panties. Not really. But one never knows what goes on in some these "underground" dance clubs in the wee hours. What happens at the panty party stays at the panty party.
Let's just quote from the event's breathless, exclamation-point-ridden Facebook blurb: "Ladies get involved!! Victoria Secret gift cards handed out to the sexy ladies as well as other prizes!! ONLY $5 before 10:30, $10 after, $7.75 double hi balls."
Heh, heh, double hi-balls … Read between the lines, why don't we: "Ladies get involved" is clearly a call for panty participation from among female audience members. That prizes will handed out to "sexy ladies" is obviously a code for: "Strip to your panties and so you can win more panties!!!"
A Facebook message to promoter Adam Cuvilier requesting detailed information on this gig was met with a baffling response: "What bro?" Interesting. Is "bro" a male term for "bra?" Have young folks today been twitted and textified so much that they have lost the ability to communicate?
Well, we really only had one question: Isn't this event completely sexist? We could go to the trouble to get some local feminist organization to give us a good quote – and they would – but why bother? It'd be like getting some priest to comment on a death metal band. Yup, it's bad, n'kay? On the question of sexism, a female person we know asked, "Are they being forced to do it?"
Of course – if they want the gig.
Then we'd be good reporters and get the other side of the story. Obviously what Adam means by "What bro?" is "Hey, lighten up, man – it's just a panty party!"
We double-dog dare the guys going to this event to join the spirit of the occasion. Are you man enough to wear your girlfriend's underpants?