World-class classical, one-night only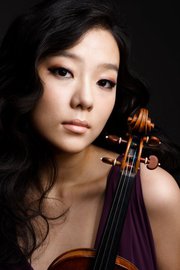 Two absolutely world-class performers are in Edmonton tonight. And you lucky dogs: though it says online you can't get tickets….YOU CAN.
There are still some tickets available at the door for tonight's concert at Muttart Hall, an Edmonton Recital Society gala featuring  Georgy Tchaidze, a 22-year-old native of St. Petersburg, Russia and  the winner of the $500,000 Honens International Piano Competition, a major honour in the world of classical music.
Also performing? Clara-Jumi Kang is a young prodigy and the winner of ….well, more international classical violin competitions than you'd want listed here, most recently the $250,000 International Violin Competition of Indianapolis.
She talked about the win to violinist.com.
"I found myself thinking that Beethoven is much too great for me to control it," Clara-Jumi said. "It's from above this earth, and I should just play it, just worship it as something from above. That is what I focused on all evening."
"I was so into the music," she said of her performance of the Beethoven at the Finals. "I am blessed to have played the Beethoven with orchestra eight times – nobody wants to play the Beethoven with you when you are 23.
"(On Friday) I was playing it like I was worshipping it – that's why, after the performance, I had tears running," she said. They came from her deep emotion for the Beethoven and from her sadness at the piece coming to an end, the competition coming to an end.
They are each the real deal, world-class classical players, further evidence of the de-burgdom of Edmonton.
The gala concert at Muttart Hall, 10050 MacDonald Drive, begins at 7:30 p.m.