REVIEW: Wildflower Grill pretentious, overrated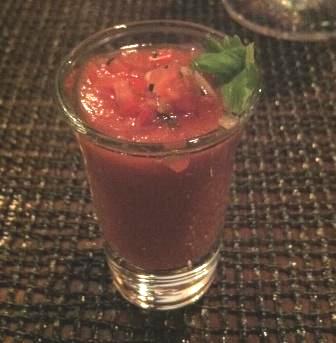 When one blows $300 on a dinner for four (including wine), it's the little things that matter.
It was a once-a-year dinner with friends from out of town, so we decided to go to the Wildflower Grill – where the first portent of impending culinary doom was something called a "amuse bouche." The complimentary amusement for the mouth turned out to be a shot glass stuffed with gazpacho.
So are we supposed to just knock it back or what? Yes, came the polite answer. The service at the Wildflower is flawless.
I took a tentative gulp. It was gross. Not wanting to seem out of place in a fancy restaurant, I tried again, but the vegetal glop was stuck in the shot glass and no special spoon was provided to get it out, so I had to use the little knife for the homemade butter that was too hard to spread on the fresh homemade bread. The second bite of wasn't any better. Wine makes a good palate cleanser.
What the food at the Wildflower makes up for in appearance, it lacks in flavour. Don't get me wrong. It wasn't bad. We would've demanded our money back. It was just bland. Our friend pointed out that there didn't seem to be much salt in the food, so perhaps that explained it. We shared three appetizers. The Canadian prime beef carpaccio topped with shallot chipotle jam, arugula and brioche crouton (which sounds delicious even if you don't know what any of these things are) was so tender it was barely there. It's raw marinated beef, basically. The baked camembert and Alberta aged white cheddar was the best of the appetizers overall, crunchy, chewy, not very good for you. And the most flavour of anything we consumed was a mixed vegetable salad which the menu claimed to contain "candy cane golden red beet trio, asparagus, heirloom carrots and heirloom tomatoes" – but neglected to mention the main ingredient: Lettuce.
The main courses were works of art – in both appearance and mouth-watering menu prose. Read it and weep with joy:
Companion No. 1: had the roasted sea bass and king crab in a citrus semolina crust served with orzo risotto, braised fennel and lobster beurre blanc.
No. 2: Had the mesquite-grilled sockeye salmon medallions stuffed with lobster and king crab served with seared prawns and scallops and root vegetable gnocchi in an ice wine emulsion.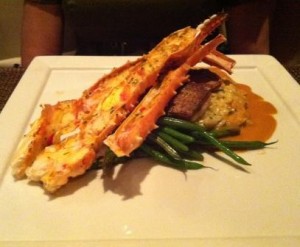 No. 3: Had the Alberta 'AAA' beef tenderloin and fresh Atlantic Lobster Quebec foie gras with lobster chive mashed potato topped with lobster and diavolo sauce, and a side of braised vegetables.
I had the bison. I always order the wrong thing. Oh, the meat was amazing, again so tender it melts in your mouth, served with a delicate sauce of something that turned out to be a "blackberry sage reduction." Delicate is code for "not sure what this tastes like." There was no "wow" factor. I suffered through this entire elegant, expensive meal with the curse of high expectations. I also tried to like the shallot and butternut squash puree, but it was both too creamy and too sweet. The fig and smoked cheddar bread pudding made little impression. Like I said, not bad. Just not very interesting. The food seemed healthy enough: Lots of vegetables, lean meats, portions not too large, low sodium – despite the liberal use of butter and olive oil. There were some decorative objects on the table that could've been salt shakers, but I didn't dare insult the chef. The companions reported their meals were "delicious," though companion No. 3 admitted the honey-garlic steak at Moxie's is better.
I feel bad complaining about bad gazpacho, hard butter or the lack of special tiny utensils to extract the meat from crab legs and lobster tails when people are starving in Africa. Additional guilt is served upon noting that the Wildflower Grill uses local food sources whenever possible – which is fresher and better for you, and because it avoids the energy-consuming transport of exotic food items from faraway places, helps protect the environment.
So what?! For $300, one expects a spectacular meal. Who wants health food? Who wants to save the Earth? Whatever. This was a thoroughly mediocre meal. The fare at Wildflower tries very hard to impress, but in end it's all just a three dressed up as a nine. Make it a seven.
Still pretentious. It's just a matter of degree.