THEATRE: All for one and one for all!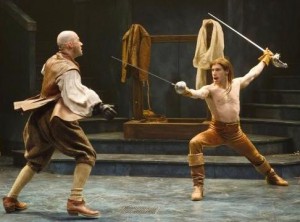 So there's this young sword-fighter named d'Artagnan who goes to 17th Century Paris to seek his fortune, only to get embroiled in a tale of intrigue involving an evil Cardinal, an adulterous French queen, a deceitful countess, various dukes, lords, cutpurses, whoresons, comely wenches, dashing swashbucklers and … to HELL with all this historical exposition!
Have at you! Thrust! Parry! Jab! You've done this before, haven't you? – counter-parry! Ah, my arm's off. 'Tis but a scratch. En garde! Thrust! Epee! Omellete du fromage! I shall run you through and then taunt you a second time!
There's plenty of bloody good sword-play in The Three Musketeers at the Citadel's Maclab Theatre until April 24 – and let's get real here: That's what we all really want from a live theatre experience. Tom Wood – who also plays the despicable Cardinal – has given a playful twist to Alexandre Dumas's original story, which has been adapted into countless plays, movies and television shows. So we all know the tale, more or less: There are actually four musketeers in the Three Musketeers, who seem to use swords more than muskets and they say things like "All for one and one for all!" as they vanquish the bad guys with wit and style. Director Bob Baker has seen to a sprawling choreography of hair-raising fight scenes, occurring throughout the show at more or less regular intervals. And with the huge sets, the 29 cast members and plenty of large props floating about impressively, the Citadel has obviously thrown all its resources at an elaborate stage spectacular that's sure to be a huge hit with the folks.
And it is. Tickets are selling like flesh wounds in 17th Century France, that is, there seem to have been quite a lot of them. Seats are $60 for adults, $50 for students and seniors. Check the Citadel ticket buy site here for details, or phone 780.425.1820.