MUSIC: No point to DoT, just to the music
Posted on April 13, 2011 By Chad Huculak Music, The Latest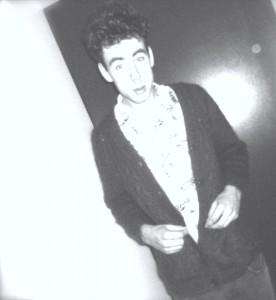 Local singer/songwriter Phil Holtby doesn't seem like the type who would shred fretboards like a madman in death metal band Skies of Strife , or in his prog-rock act Ides of Ruin.
But his quiet, reserved personality is a perfect match with his latest project – a lo-fi, "weird folk" solo act he calls, simply, DoT.
"This is the one thing I can relate to," Holtby says. "The other stuff's fun and it's wild to play sometimes, but it hits a different spot."
DoT will play a free show at Leva Café, 11053 86 Ave., Thursday (April 14) with opening act Liam Trimble.
His desire to make quieter, more unusual songs was sparked by a documentary about eccentric artist Daniel Johnston.
"In Grade 11 I saw The Devil and Daniel Johnston, and from there I just couldn't not make music," he says.
Holtby was mesmerized by Johnston's strange style and disregard for glossy production.
"He didn't really care too much about what people liked. He was very quirky."

Shadows of Johnston's work can be heard throughout DoT's debut EP Mizz Teviak, which was just released last month, and is available to purchase and/or stream in its entirety here .
Holtby, now 19 years old, throws his shaky, vulnerable singing voice overtop melancholy sounds made on guitar, piano, keyboard and a rain stick.
He recorded most of the minimalistic tracks in his bedroom with a Mac microphone.
"After I saw the documentary I started making all these tapes in my basement. I just wrote DoT on them. There's no story (behind the name)," he laughs. "I don't know why it's Big D, Big T. I can't remember. It just stuck. Maybe it represents insignificance."
The album name holds a little more weight for Holtby.
"A long time ago I had a dream. There was a woman in the dream, and at the end I asked her name, and she said, Miss Teviak," he explains. "She was really beautiful. And then the dream ended. So she represents fantasy, I guess, or subconscious.
"I wrote it down on my bed. Alex Teviak was her name. And a year later I saw it and I was like, that's really cool, I remember that."
Holtby is the cousin of local rapper Mitchmatic and Edmonton-gone-New York musician Teddy Hotbody.
Those connections helped him get on board with growing local label Old Ugly Recording Co., which is a perfect fit for his tranquil, sometimes eerie sound.
Preferring to avoid stages and spotlights, Holtby's ideal venue is the comfort and warmth of a house basement. He's built his confidence as a solo act playing house parties, where he has received much praise.
"Playing those house shows, people get pretty pumped about it. I get some Dylan comparisons, which I don't take," he laughs.
Holtby is a music teacher when he's not in school or jamming with his three other bands (including a new, unnamed alt-rock band).
As DoT becomes more of a priority, he knows he might have to step off a few musical chairs.
"I have like three other projects, four rehearsals a week. Every second night is something else," he says. "But this one keeps me honest and sane."
DoT will also play the Haven Social Club April 21, opening for Willy Blizzard.
Ides of Ruin plays Brixx Bar and Grill April 23 with Nobody Likes Dwight.