Next best thing to Vegas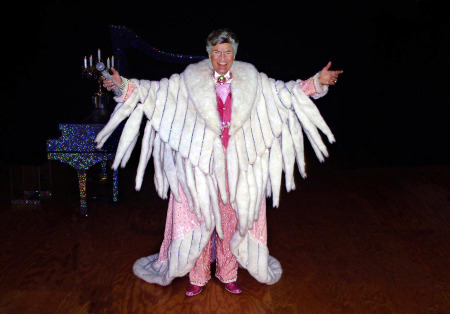 It has long been a dream to see a new theme hotel built in Las Vegas, one that would pay homage to the old Vegas that was torn down to make way for the new Vegas: Vegas Vegas!
Imagine: A bar that looks like a mini Sands Hotel, 1950s decor, Rat Pack waiters, Dean Martin impersonators, besuited goons, classy dames, perhaps a staged mob hit or two and the Michael Buble Orchestra in the Sinatra showroom until 2065 (six nights a week, two shows Saturday). Please somebody – Paul Anka, Wayne Newton, Gotti Jr. – build Vegas Vegas before we forget why it was here in the first place. Because unlike Hollywood, Vegas is a REAL place. Or was, anyway.
Until then, we pay homage as best we can: With swell events like Pop Goes Vegas! with the Edmonton Symphony Orchestra and special guests in the Winspear Centre tonight and tomorrow. Could it be cheesy? Maybe. Who cares? Know this, at least: a symphony orchestra usually swings like a dump truck with a flat tire, but the ESO is a special case, having swung admirably numerous times with people like Tommy "the Senator" Banks, P.J. Perry and other top local jazzers. Not to mention rocked: The ESO was featured on the 1972 album Procol Harem Live with the Edmonton Symphony Orchestra, which some say marked the birth of an entirely new genre of music, "symphonic rock." Thanks a bunch, ESO.
The point is that we got some real gassers here, baby: crackerjack dolls and molls and a helluva ring-a-ding-ding big bang band for a real swingin' wing-ding.
Conducting the ESO this weekend will be American "Pops" specialist Jack Everly. A musically theatrical cast (or theatrically musical, depending) will include Ryan Silverman (Broadway Phantom of the Opera star), Martin Preston (crack Liberace impersonator) and Allison Briner (done everything from Mama Mia to Law & Order), with other guest singers and dancers in full glitzy regalia. Swingin' numbers will include Luck Be A Lady, Hey Big Spender, Viva Las Vegas, Fly Me To The Moon and – how could we forget? – My Way.
Ah, we can almost see the neon come-ons at the Stardust and the El Rancho winking through the desert sunrise haze right about now – and one can almost capture that familiar Vegasy feeling of being broke but happy after shelling out $160 (for two) to sit in the front row (plus dinner at the Hardware Grill beforehand, maybe). Other tickets start at $24 – such a deal for a Vegas show, even in Edmonton – and can be bought by clicking here, or call 780.428.1414.