Blue Chair Don't Swing Blue, but Lenny Bruce Lives On
Posted on April 16, 2011 By Rob Drinkwater Culture, The Latest, Theatre, Visual Arts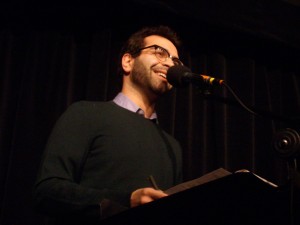 Once upon a time, on a dark and stormy night in a galaxy far, far away (but still in Edmonton, strangely enough), there was only one story slam. It was at The Blue Chair Cafe and it grew to be so popular that on some nights it even had to turn folks away.
But things were not as happy as they outwardly seemed. It was a slam divided.
One camp included The Blue Chair's owner, and another camp included the founder of the Edmonton Story Slam. The former thought things were going a bit too far on stage for a family audience, while the latter cried censorship and moved the slam to The Haven Social Club.
But The Blue Chair still hosts story slams. So now there are two slams — one where cursing and sex and anything else goes, and another where a certain level of, shall we say, decorum, is expected.
"They claim we censor. We don't censor," said Blue Chair owner Harold Wollin during a break between stories at the Slam at the Chair last Wednesday.
The Slam at the Chair wasn't exactly packed that night. There were only a couple of dozen people, and there weren't enough storytellers to fill the maximum of 10 slots. Still, there was a respectable mix of ages ranging from school-age to those old enough to have voted against Pierre Trudeau in 1968.
Wollin said the split with the Edmonton Story Slam Society centred around one particular host, who he said needed to practice some "restraint." He wouldn't elaborate on exactly how the host crossed the line of good taste, but said it prevented the events from being suitable and welcoming for a wide range of audiences, including children and seniors.
It was hurtful when the Edmonton Story Slam Society left The Blue Chair, he said, but he maintained that great stories are still great stories, and don't need to be profane to make them better.
"A lot of older people come here. It's friendly. You can bring your grandmother here, you can bring your kids here," Wollin said.
"I'm not saying you can't bring your grandmother to The Haven, but she might not like the stairs."
If this debate were between comedians, then Wollin would probably be Bill Cosby. Cosby never did blue humour, and has been critical over the years of fellow comics who did.
Susan Hagen, president of the Edmonton Story Slam Society, would be more like Richard Pryor.
"I think there were a couple of edgier writers they didn't like," Hagen said of the Blue Chair group in an interview. "We tried to work things out but decided it just wan't going to happen."
"As soon as you have people hold back content, it isn't art."
The formats for both the Slam at the Blue Chair and the Edmonton Story Slam at The Haven are pretty much the same, with each competitor getting five minutes to tell an original story. Judges award scores and deduct points the longer a story extends beyond five minutes.
The Blue Chair's slam has the added bonus of an audience vote, while the slam at The Haven has a miniature gong which is rung if a competitor hits the seven-minute mark.
Winners at both take home a pot of cash.
Omar Mouallem, who was the evening's master of ceremonies at the Slam at the Chair last Wednesday, has also hosted and competed at The Haven and said both events have their merits. The event at The Haven is edgier and more competitive, he said, but he believes people are more willing at The Blue Chair to jump up and tell a story even if they hadn't planned to that night.
The storytellers at The Haven are more of an artist crowd, he explained, who come with well-prepared stories and thrive on a more competitive atmosphere. The Blue Chair slam, on the other hand, he called the oral equivalent to jazz.
"At Edmonton Story Slam, I'm definitely more risque. I think the people expect it. I've done stories about a family's complacency with their pervert grandpa, or about two teenagers in the Middle East waiting to have sex with a prostitute," Mouallem said while seated at a table at The Blue Chair.
"Here, I've done a story from the perspective of an immigrant woman coming to Canada for the first time, or getting into trouble with the police at 17," he continued. "I wouldn't take my mom to Edmonton Story Slam, but I think she'd enjoy herself here."
Wollin said crowds have been good for Slam at the Chair, and there was a capacity crowd for their championship in February. He said The Blue Chair may even soon host a songwriting slam.
Hagen, meanwhile, said her group's move to The Haven has brought a younger crowd to the slams, and she suggested it could be because they don't feel pressured to order food in a bar, which they may have felt when it was held in a restaurant. She said there's also been a lot of publicity for the slams, including stories about the split.
"This has always been an on-fire, word-of-mouth event," Hagen said. "The calibre has increased four-fold since we moved."
Hagen noted the Edmonton Story Slam is non-profit and is still "the original" story slam. She said it just wouldn't be as vibrant if competitors didn't have the right to swear, and quoted Lenny Bruce's line, "Take away the right to say 'fuck' and you take away the right to say, 'Fuck the government.'"
Wednesday's winner at The Blue Chair, Pat Fraser, would probably be uncomfortable knowing "fuck" was as close as the preceding paragraph. Fraser wouldn't say how old she was, but it's possible there are some lucky grandchildren out there who get to listen to her yarns.
Her five-minute story was about an elderly relative who liked to drink, who one day urinated out a bedroom window. The matriarch of the house threatened to report him to the authorities, but in her fury couldn't think who would take the complaint. In the end, she threatened to report him to the post office.
Fraser never actually stated the man took a whiz out the window — it was simply implied.
"I don't think you need to offend people to tell a good story," Fraser said as she walked out the door with $175 — the evening's prize.