COUNTRY MUSIC: Tommy Hunter's last yeehaw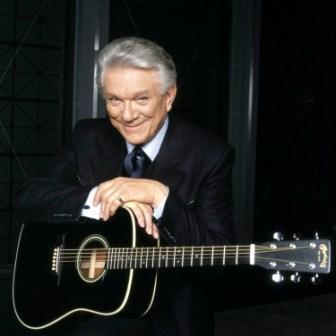 Canada's Country Gentleman is hanging up his spurs after nearly 55 years in the business.
Tommy Hunter doesn't sound particularly torn up about it, though. Relaxing at his Florida home before the final tour that will take him across Canada this month – playing at the Jubilee Auditorium tomorrow (Sunday, April 17, buy here) at 2 p.m. – the iconic singer and guitarist seems at peace with the decision. This doesn't mean that he might not feel a twinge of regret as he steps on stage for the farewell performance in each of the cities he'll be playing.
"I know lots of people in venues across Canada, so I'll probably be quite sad," he admits. "It's important that I go out while on my game plan, though. I'm being very honest. I can still sing fine and perform well, and that's how I want to leave the people. I want them to say that the last show I do was as good as ever, and that's how I want to say goodbye."
Hunter points out that he never got the chance to do this with his
popular CBC program, The Tommy Hunter Show, which ran from 1965 until the plug was pulled in 1992.
"I never had chance to say goodbye, and that's why I did the (2003) special (Talk About the Good Times); I was asked to go back, and the only reason I did it, and people will verify this, was to say thank you. The last thing that came up was money, and the first thing I asked for were the original producers and directors, writers and cameramen. The people that put the show together for all those years, so I could say thank you to them at the end."
Considering his reputation as a ceaseless touring machine ('Travelling Man' has been his long time theme song) you'd expect that Hunter would fret at all of the extra time allotted him after he gives up the road.
Surprisingly, he's happily looking forward to the time off.
"When I'm working I'm focused, but when I'm not I don't really stay all that focused," he chuckles. "I have hobbies. For years I read The Bible, but I starting learning more fifteen years or so ago when I took a course on how to read it. I like photography. I'm not much for travel; I've been to Africa, Pakistan, India and Lebanon to entertain our servicemen and that was enough for me."
Clearly something of a sentimentalist, he's proud of his many
accomplishments in the world of entertainment, including receiving the Order of Canada and the Order of Ontario, as well as the Country Music Hall of Fame. He's also still thrilled about the many personal heroes he's met in his time as a host on the Tommy Hunter Show.
"I had a chance to work with people like Jim Reeves, Eddy Arnold,
Waylon Jennings, Johnny Cash, Loretta Lynn," he says with some
satisfaction. "Later we were able to get in people who used the show as a platform to go on to bigger and better things, like Shania Twain. It was a good factor in their careers, and I'm proud about how far some, like Shania and Alanis (Morissette), went. Others retired young or just had the one experience of being on the show, but I'm just as proud of those as well."