Low temps, high spirits with Tyler Butler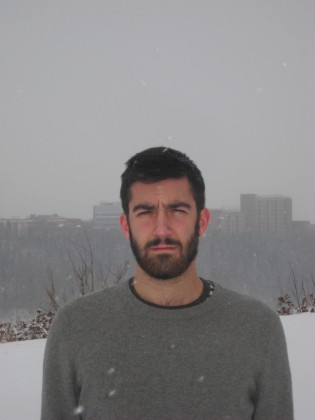 Tyler Butler's new album Winter King, a gorgeous, melancholy ode to Edmonton's frozen season, was primed to be released smack-dab in the middle of the deep freeze.
But things don't always work out how they should.
At least there will still be some filthy snow left on the ground when the local singer/songwriter releases the album with a show at Wunderbar, 8120 101 St., Tuesday (April 19). Zachary Lucky and Caity Fisher will open.
"It was delay after delay. The recording took longer than I thought. I joked on the radio in December, 'What if I can't put this out until April when all the snow's gone?' I had a good laugh about it on air," Butler recalls.
"So I've been telling people, to save face, that it just took me all winter to reflect on winter."
Butler has traditionally been far more personal and introspective with his pensive acoustic tunes, which are a stark contrast to his warm, outgoing personality.
On Winter King, he's put personal matters aside and veered into storytelling territory.
His lofty goal across the album's eight tracks, which can be heard here, is to create a unifying mythology that all Edmontonians can relate to.
"What I tried to do is write these really mythological stories. I take these Scandinavian goddesses and Irish symbols and all these mythical references, and then write stories that are centred in Edmonton. And they're about me and friends and experiences and things that I know about Edmonton, but they have this kind of fantastic element," he says.
"What I'm trying to do is build this kind of common mythology. Trying – we'll see if it gets picked up on. That's the idea behind this whole record."
Butler's love for Edmonton is undeniable.
His love of winter might be a little harder for most of us to grasp, but perhaps that's why it's best portrayed through music.
The 22-year-old is one of select few residents of this city who doesn't curse the year's first dump of snow and the mayhem that ensues.
"I love to play hockey. I love to get bundled up. I like girls bundled up," he says.
"But also, this city's so defined by winter. And I found, moreso this year than possibly ever before, my friends and I were avoiding each other because of the cold. We were saying, I can't go out tonight, it's too cold. That kind of isolation was something I really wanted to comment on – the way our lives change in winter.
"So I guess I'm not such a fan of that part, but I love the winter. Especially that big snowfall is always so beautiful, the four feet of snow on either side of every sidewalk."
Whatever you say, man.
To let Edmonton's winter spirit truly seep into his recordings, Butler decided against soundproofed recording studios for the making of Winter King.
"I try, in my recording process, to bring the space that I'm in, into it. I record at home and I don't really try to take out a lot of the sounds that find their way in. So you'll hear neighbours talking every now and again, and sounds of the street and stuff," he says. "I really think that adds to the space of my record, since the city was so important in this one.
The University of Alberta English student, who also plays in local acts Jom Comyn and Caity Fisher and the Living Daylights, has applied for a Masters degree in communication and culture at Ryerson University, which would see him move to Toronto.
If he gets accepted, he admits he'll have a tough time leaving us behind.
"I just love being a part of the arts scene in this city. And the people on Old Ugly (Recording Co.) who I work with are totally inspiring to me," he says. "I just want to be a part of that wherever I am."