BEST READS: Do paper books have a future?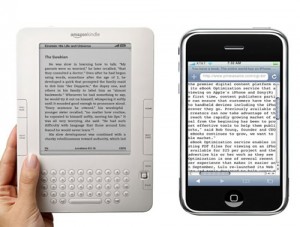 * Remember that feeling of opening a crisp new hardcover book, the smell of fresh-cut paper and print ink, the sturdy weight of it in your hand? Hold onto that memory, because pretty soon it may be all that's left of the traditional book.
* There really is only one good newspaper chain left, you know. The Village Voice group and its predecessors from the bought-out chain New Times have been doing magazine-length weekly newspaper reporting better than anyone, for decades. Whether you like him or not, you gotta admit: it's six of the most revealing pages of information on Clerks director Kevin Smith possible.
* Just call him Tyrannosaurus Sex. This piece redefines that ol' Was Not Was tune "Do The Dinosaur." If a blind guy tried to describe the dinosaur, he'd feel it up and declare that it has many humps. Ok, our attempt at describing this theoretical piece on dinosaur sex is a lot more juvenile than the actual article.
* The urban African American experience is a little more intense for Kehinde Wiley than most artists – he's actually a Nigerian refugee who is taking the art world by storm. Here's a short profile from the Washington Post.
* Lastly but not least, love cherries and olives but hate dealing with pits? The perenially helpful Lifehacker has a solution that's also a little hair-raising. The cheapest solutions, as they say, are often the best.