EDMONTON RADIO: Yerxa's big idea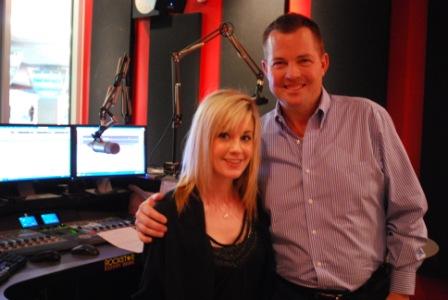 Edmonton does not need three top-40 radio stations. One of them has to die.
But I hope it isn't Hot 107, despite an unfortunate allergic reaction I had to "the new and even more annoying Bounce" after it launched last fall. Got sick on the floor – which I later learned from J-Lo is a good thing.
With a focus on dance culture and the young audience that follows it, Hot 107 is the only independent COMMERCIAL radio station in Edmonton. It claims to run the least commercials and the most new music – never mind that half seem to be remixes that don't improve much on the original songs you can already hear on the other two top-40 stations, The Bounce 91.7 and the upstart Virgin radio 104.9. Hot 107 is the only commercial FM station in Edmonton to tell the Bureau of Broadcast Measurement (BBM) where to stick those little devices that measure the bearer's listening habits – so therefore there are no "official" ratings numbers for Hot 107. The station does its OWN market research. It seems to be working. There is no other explanation for the bloody head-to-head war currently raging between the Bounce and Virgin, while Hot 107 stands aside like the French in the Vietnam War.
Well, played, Hot 107.
A personal visit to the Lair of owner John Yerxa is in order. There are at least two burning questions: WHO THE HELL IS THIS GUY? and WHAT DOES HE THINK HE'S DOING?
We meet at the appointed time near Hot 107's secret entrance in West Edmonton Mall. The youthful 51-year-old broadcasting scion doesn't look or act anything like the stereotypical station manager, the clueless Mr. Carlson from WKRP. Yerxa talks almost like a cult leader, saying wonderfully loony things like "I want to repatriate youth" and "I can do whatever I want" and "I didn't come late the party – I STARTED the party."
On the way to his very plain, windowless office, Yerxa escorts me through the vast warrens of NewCap Radio (home to K-97), where Hot 107 leases a studio, which is funny when you remember that NewCap bought CFCW (and K-Lite) from its founder Hal Yerxa, John's father, for $18.5 million in 1989 (read CRTC decision here).
Long story. Better do a little warm-up first. Yerxa agrees to a quick quiz to test his street cred. Define the following:
1. Crunk: "I don't know."
2. Bling: "Like jewellery, diamonds?"
3. Hype man: "Might be what I am, I suppose."
4. Booty call: "The younger generation uses it as a late night amorous greeting."
5. Fly like G6: "I think it relates to the Citation aircraft? Some people consider owning a G-6 to be the top material achievement, I would assume."
Not bad, eh? Yerxa may not know what "crunk" means – trick question: nobody knows what crunk means – but he knows an awful lot about Edmonton radio. Quick resume: Worked for dad, was on-air on CFCW at the age of 17, wrote commercials, did promotions, went into sales, tried to launch a new rock station, got into a fight with K-97, which spurred the launch 96 K-Lite FM  – which has since flipped so many times I can't even remember what it is now; plus, who cares? – which in the early '80s was a huge success in part because it was the only Edmonton station to break the hottest act of the day, a singer named Michael Jackson; then Yerxa did programming, operations, wrangled more launches in other cities, started consulting after the NewCap sale, started his own market and political research firm (remember the Sun-Yerxa polls) and a couple of years ago noticed there sure seemed to be a lot of young people hanging out in dance clubs in Edmonton. So he had a big idea – a new radio station that targets this "underserviced" audience.
Yerxa made his big pitch to the CRTC when a call for new Edmonton radio stations came about three years ago.
He recalls, "I think there was collective rolling of the eyes in the hearing room when I said we want to repatriate youth to radio. But a lot of broadcasters weren't going after youth. They had given up on them. We want them because they influence everyone's purchasing decisions. They pick the pockets of everyone around them. Think about it: Every financial decision – your car, your house, your entertainment, your vacation – is influenced by your kids."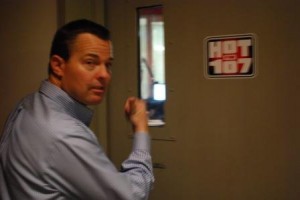 The CRTC bought the whole yarn – and Hot 107 was born. Yerxa's first move was a frontal assault on the only serious competition: The Bounce 91.7. The new, young Hot 107 listeners were urged to "make the switch." There was even a "Switch Party" featuring hot DJs Steve Aoki and Calvin Harris that drew 5,000 fans to the Northlands Expo Centre in October 2010. At a $70 ticket (though there was surely plenty of "paper" at the event), the show was proof Yerxa was on the right track.
"We hit this market like a sledgehammer," he says with a big grin. "Had we not gained the traction – and we're not the only ones who did strategic research – and had we not launched and done exactly the things we said we were going to do, you wouldn't see the battle between Bounce and Virgin that's been played out here. They said, 'Yerxa's got something we want.' If the others want to compete with us, they're going to have to do things the way we do things – and they're not prepared to do that."
He's on a roll now, "If you want to compete with us, come on down! But they're not going to do it. They have shareholders to deal with. I'm not going to switch formats. For somebody to say they want to be on our turf, and I'm going to change? That's crazy!"
Talk turns to other Edmonton radio stations. Yerxa says he doesn't blame Harvard Broadcasting for flipping the Sound to Lite 95.7. The light rock format is "a license to print money" because 25-54-year-old females influence household spending even more than the kids, and for Virgin to walk away from it to jump into the top-40 battle is, he puts it bluntly, "Insanity!"
Something to think about: Yerxa, like many radio people, declares that the key to success is to give your audience what it wants. But as politics has shown, sometimes the people don't know what they want – let alone what's good for them – and will accept anything fed to them. SO, at what point in the Edmonton radio saga do we stop the market research and start thinking about educating audiences about what constitutes great music? Surely the youth of Edmonton have broader musical tastes than the Remix Top 30, don't you hope?