BEST READS: Stephen Harper and Chad Kroeger get chummy? Hmmmm…..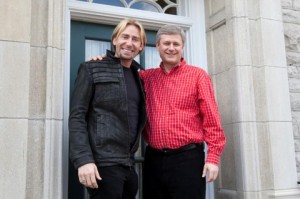 Today's Best Reads are a mix of genius, insanity and outright lies…plus doggie tips.
First, our hats off to Jason Schneider's blog Heartbreak Trail for its exceptional analysis of the photo op between Chad Kroeger of Nickelback and Stephen Harper. Well played, good sir, well played.
Here's the best overview we've found so far on the latest confabulation from a new literary star. This one's even Worse than the Million Little Pieces fiasco, in that it involves Afghanistan, charity and war.
In this interview, The Guardian's Alan Rusbridger demonstrates his own fluidity of phrase in explaining the compelling genius of Daniel Barenboim's approach to classical piano.
If there's any way better to express the complex miasma of influences that make up the pictures formed in the human psyche, it's poetry. And if we ever write a sentence like that again, you have our permission to shoot us. Here are details on a run of poems as celebration of national poetry month.
Ever get the feeling that maybe the media isn't telling you everything? Well, sometimes — at least from an artist's perspective — they're just telling you waaay too much. Here's a piece on the BBC coming under fire for lousy literary criticisms.
Speaking of chewing people out….here's a piece on how to react when your puppy starts going bonkers and begins chewing things. It's concise, to the point, and designed to save your couch and shoes from further assault.