The DAILY FUNNY: Green onions and reusable energy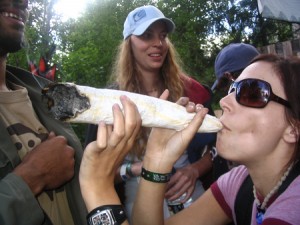 Worried about the oil sands, our economic future, and the environment? The Onion offers this reasoned debate between two seasoned veterans who've assessed the future of carbon. Timing might have been a little off, though…..
Simon Pegg and Nick Frost of Hot Fuzz and Shaun of the Dead fame reshoot Star Wars. Well, one particular desert scene, anyway…..
You knew there had to be a reason; you may not have cared to ever find out what that reason was…..but you knew there had to be a reason weed makes us laugh. This is much more interesting than funny, but enables us to use that enormous-ass joint picture, above.
Think Shel Silverstein's cartoon ditties are classics? Hey, you don't hit a homerun every time up to bat. Babe Ruth struck out four times for every Tater, he hit. Or something like that. Anyway, Collegehumor.com presents an example of really dragging a buck out of celebrity.
Don't let the lame first one fool you: these truly are some of the most ridiculous TV captions and examples of bad timing ever broadcast.
And we close with something a little more gentle: Freelancer and blogger Mary McCarthy offers a brief explanation of the awesome power of the truck stop. Turns out it's good not to be seen, sometimes, and you learn all sorts of odd things about people.