Canadian metalheads keep Holy Grail rocking
Posted on April 20, 2011 By Chad Huculak Music, The Latest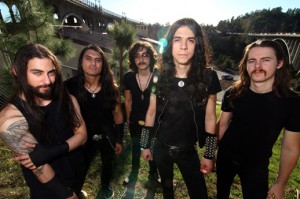 Raise your devil horns with pride.
Holy Grail singer James Paul Luna says Canadian metal crowds are superior to those in his native United States.
In fact, after a couple years of touring and some high-profile festival gigs in Europe, he says we're right up there with the metal-loving Europeans.
"In the States, people will be a little bit more reserved, standing with their arms crossed, and then maybe halfway through the set they'll start bobbing their heads a bit. But in Canada and Europe, it's like right from the get-go, everyone's going crazy," Luna says.
"They're just passionate about music and they don't really care what it is, they just go crazy for it."
Get ready for guitar solos galore when Holy Grail teams up with Toronto cheese-metalers Cauldron (formed from the ashes of Goat Horn) for a smokin' co-headlining metal bill at the Starlite Room Friday (April 22). Local acts Samandriel and Guardians of Power will open.
Holy Grail plays a mix of classic thrash and power metal infused with modern influences, but Luna is a student of the old school.
"For me personally (my influences) would be Deep Purple, UFO, Judas Priest, Accept, Witchfinder General and Angelwitch; a lot of British metal out of the late 70s and early 80s, and a lot of Swedish and American metal from that same era," he says.
"The other guys are a lot more into Black Dahlia Murder, Lamb of God, Amon Amarth. I really like that stuff, but my main passion is for old-school metal and 70s rock."
Luna had only sung in classic rock-style bands until four years ago when he joined White Wizzard, which also included drummer Tyler Meahl (and whose hilarious debut video for High Speed GTO can be viewed here ).
The two left with Luna to form Holy Grail a year later, while White Wizzard continues to rage on without them.
Luna names Judas Priest mainman Rob Halford, Deep Purple singer Ian Gillan, and Brian Ross of Blitzkrieg as the primary inspirations for his raspy, aggressive, yet powerfully melodic vocal style.
To capture all the band members' influences on Holy Grail's debut Crisis in Utopia, the quintet enlisted A Perfect Circle collaborator and ex-Nine Inch Nails member Danny Lohner as producer.
In an effort to avoid being pigeonholed as a "retro" band, it was crucial for the recordings to have a modern edge.
"We liked his modern style production, so we went ahead with him. (He's) coming from a not-straight-up-old school style, but he has roots in old thrash metal," Luna says. "So we thought that would be awesome to combine the two, the old-school-meets-new-school combination."
Able to shred with the best of them, Holy Grail has been hearing kind words from the metal press since Crisis in Utopia's 2010 release.
The California band has already met some of its heroes playing European festivals, and has done a full-fledged tour with thrash-metal legends Exodus.
To Luna, that's what it's all about.
"It's been awesome. Some of our favourite bands from growing up … you end up touring with them and hanging out and drinking with them, it's really cool," he says. "It's the ultimate part of being a musician I think: being able to love music and then be able to go out and meet and actually play shows with these bands you love."
Go here to purchase tickets.