Dirty Vegas brings Electric Love to Buffalo Underground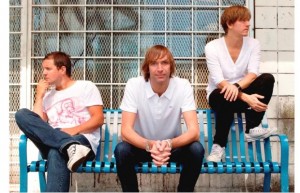 Have you ever heard of a song being used in a television commercial BEFORE winning a Grammy award?
Welcome to the wonderfully topsy-turvy world of dance culture, people, epitomized by global stars like Dirty Vegas. The British house trio – spinning the tracks tonight at Buffalo Underground – has claimed a good deal of its fame with soundtracks for television shows and commercials. The aforementioned Grammy pick for the 2002 best dance recording is of course the breezy, poppy, trancy Days Go By, which was used in a car ad before anyone had heard of these guys. Other Dirty Vegas songs have appeared in episodes of Fox network shows like The O.C. Like Moby did with Play back in the day – every single track on his 1999 album was licensed for commercial use – Dirty Vegas had obviously found the best path to their fans was through advertising.
Ancient history? Indeed. Just as it seemed like Dirty Vegas could do no wrong, they broke up in 2005, citing "management difficulties." Familiar tale. Read more in a recent Calgary Herald story here.
Long story short, the group reformed, recaptured their electro-pop mojo that made them such a big deal to begin with and recorded a new record – they wouldn't be here otherwise, you know – called Electric Love. If ever there was a more perfect title of a DJ album, we'd like to know. Coming soon to a TV commercial near you? Probably.
Tickets to the show are $15 at the door.