THEATRE: Ayn Rand meets Anthony Robbins in Public Speaking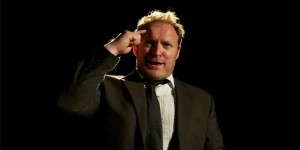 True story: After seeing a performance of Faithless – which Chris Craddock wrote in 2005 with his co-star, Steve Pirot – I approached the actor in the lobby afterwards. I said to him, "Man, if only I had a quarter of your talent."
Craddock raised an eyebrow and gave me a playful smirk.
"But, Adrian, you do have a quarter of my talent," was his retort.
As it is, the man with four times my talent is coming back fast and furious with his latest one-man show, Public Speaking, opening tonight at Theatre Network. (Craddock is also the writer of Boygroove, which also opens tonight at the Catalyst Theatre). Public Speaking has already played at the Toronto Fringe to packed houses and rave reviews, and now it rolls into town at the Roxy Theatre where it was work-shopped. His one-man play concerns itself with Patrick Spencer, a self-help guru, his daughter Diana (a kidnapping victim) as well as Johnny Three Fingers and Brian (her kidnappers).
"All I can think about," said Craddock, "is the play and the election, so I think I'll just stick to talking about the play. It's about a public speaking instructor turned self-help guru. He promotes selfishness as a virtue: That it's good, it's noble, it's natural. To throw off the shackles of parental and religious training that tell us that caring for others is good."
In other words: What would Jesus NOT do.
"It's a sort of re-booted Ayn Rand meets Anthony Robbins", he added.
"The play suggests that the audience has not come to see a play, but has come to see one of Patrick's seminars. As the seminar progresses, he lets in some biographical information and mentions his biggest personal test: The kidnapping of his sex-addicted daughter, who tells her side of the events in an encounter group."
Throw into the mix a homeless heroin addict who suffers from gigantism.
"One day he tries to buy his fix and he's a little short. His is noticed for his size and is recruited by gangsters as an enforcer."
Bradley Moss serves as the director (Moss also directed Craddock's play, The Summer of My Amazing Luck). Craddock is quick to acknowledge Moss's part in the development of Public Speaking. "We work-shopped both and toured them so many times it feels like I've done more plays with Brad than I actually have", said Craddock with a chuckle. "I consider him a long-time collaborator and Theatre Network a long-time artistic home".
After the runs of Public Speaking and Boygroove, look for the release of the local feature film The Pharmacist/Le Pharmacien, which Craddock also wrote and has a major supporting role. Chris Craddock: He's the boy you cannot avoid…
Public Speaking runs through May 8. Book tickets here, or call 780.420.1757.
***
(When he's not writing theatre stories for GigCity with one quarter of Chris Craddock's talent, Adrian Lackey is a Sterling Award-winning playwright who has produced six plays in Edmonton, including Reefer Madness: The Musical, and Breathe.)